If you've been looking for the perfect outdoor location for a wedding or party, you'll find what you've been hoping for at the new Patio at Brandview. Already known for its elegant ballrooms, L.A. Banquets has expanded to include this spacious open-air deck that takes advantage of our spectacular year-round weather. It's such a natural, we don't know why we didn't think of it sooner.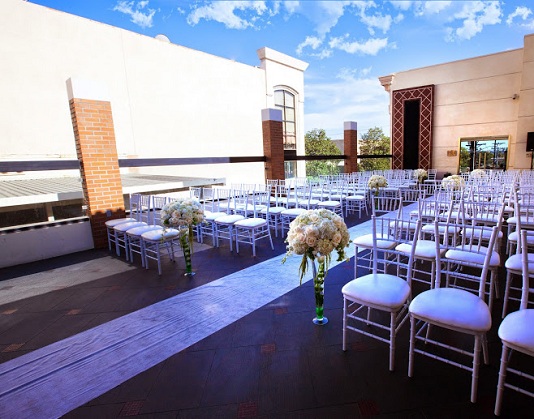 Accommodating 100 guests, an event on the Patio combines L.A. Banquet's know-how with the best of Southern California living. Whatever kind of event you're thinking of, the Patio can be adapted to suit it.
Imagine taking your vows beneath a twinkling canopy of stars. Following the ceremony, your guests will enjoy artisan cocktails and dinner prepared by Anoush master chefs. After the meal, your guests can retire to the welcoming couches in the Patio's lounge, with fire elements to warm any breeze, and a customizable hookah bar.
If you decide on the more formal and larger-capacity Brandview Ballroom for your wedding, consider including the Patio in your plans as a quiet retreat for intimate conversation during the cocktail hour or as the ideal spot for a late after-party.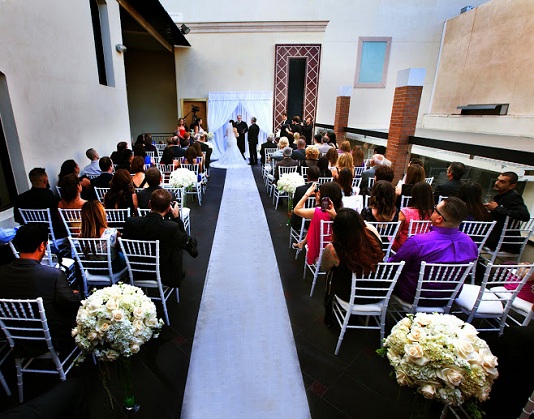 The Patio is also beautifully suited to daytime events. What could be lovelier than a wedding lunch under the clear blue Southern California sky? Think about an alfresco bridal shower or a celebratory luncheon after a christening or other special ceremony or event. The Patio's fountains will add soft, soothing sounds to the background as your guests savor the finest Anoush Catering has to offer. You can even add an ice cream bar for the sweetest of treats.
Thinking of an early evening cocktail reception to entertain clients or reward employees for a job well done? The Patio at Brandview is an exceptional spot for mingling. It offers a unique and tranquil setting in the heart of Glendale. High above the sounds of the city, the clamor of the workday will be forgotten as your guests refresh themselves while sipping cocktails and feasting on an unsurpassed array of hors d'oeuvres.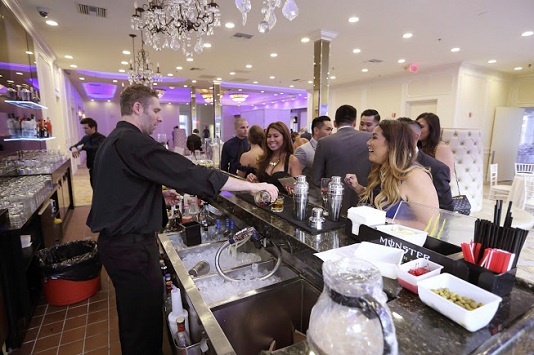 Brandview Ballroom
Exciting changes have also been taking place in the elegant Brandview Ballroom. The bar has been completely redesigned with dramatic flair. LED-lit colored shelves reflect in the new mirrors, and a virtual fireplace lends an enchanting glow. We've also added the services of Anoush Signature bartenders to dazzle guests with their showmanship. Their flaming shot towers are something to see!
Anoush specialty cocktails are the best in town. Offer your guests a wide selection or choose several from our extensive menu including Passion Island Mojitos, Lemon Drops of Love, Amaretto Orangesicle Kisses, and the amazing Wonka's Flaming Chocolate Bar Martini. If you'd prefer, the Anoush Signature staff can create a delicious cocktail just for you and your event. We'll name it for you and display it on electronic screens above the bar for all to see.
Because of our special relationship with Anoush, the bartending staff members are also available to add their style and expertise to special events at other locations.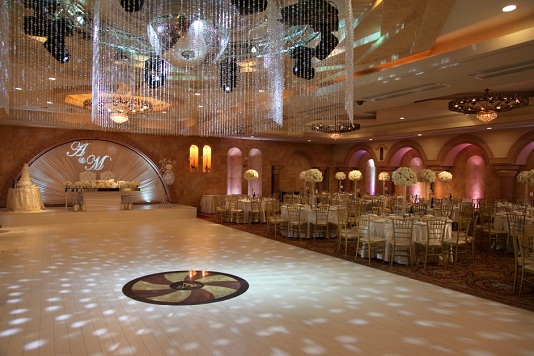 Glenoaks Ballroom and Le Foyer Ballroom
L.A. Banquets' Glenoaks Ballroom in Glendale and Le Foyer Ballroom in NoHo have also undergone stunning changes, with new gleaming white dance floors to enhance their European glamour. Customized hookah bars are now available at both of these locations, too.
Contact L.A. Banquets to schedule a tour of any of our beautiful facilities. Let's make your special event dreams a reality!