Indian weddings are wondrous affairs steeped in tradition and filled with ritual and celebration. With their many festivities over several days, it can be daunting to find a location that accommodates all of an Indian wedding's gatherings and ceremonies. With its array of superb facilities, L.A. Banquets is the perfect answer.
We've helped many couples celebrate their unions in Indian tradition. What's more, from sangeet to mehndi to mandap and beyond, we know how to plan wonderful events that are affordable without sacrificing style.
You're welcome to choose from one of our preferred Indian caterers, or bring in your own favorite. Either way, skilled Anoush staff will be attentive, whether tray-passing, presiding at bountiful buffets, or presenting dinner with fine plated service or family-style. Our accomplished bartenders will delight with signature cocktails or mocktails as you wish.
We offer a beautiful variety of ballrooms and smaller spaces for every step of your Indian wedding.
For the Smaller Gatherings
The Legacy Lounge in Glendale is an ideal space for sangeet or mehndi. Classic sophistication is the keynote, with seating for up to 64 guests at square tables designed for easy conversation. To highlight its intimate size, careful attention has been paid to every detail, with graceful sconces providing gentle lighting, and a burnished wood floor that complements any color scheme you choose for linens and flowers. There's even space for performance or musical entertainment.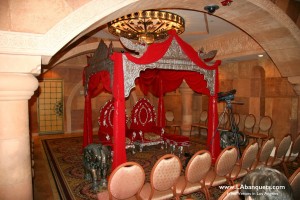 Le Foyer Lounge in North Hollywood offers lavish ornamental details, tiled stone walls, spectacular carved arches, and a gently bubbling fountain. Le Foyer Lounge accommodates up to 70 guests and can be arranged with round dining tables or one long table down the center of the room. The front of the room also offers space for a stage if you'd like.
The Brandview Patio in Glendale is just the spot to take advantage of our wonderful Southern California weather for a traditional event or for a casual parting brunch or luncheon. This spacious open air deck accommodates up to 100 guests under the warm daytime sun. The space features comfortable lounge seating and even a fire feature to keep guests cozy.
For the Larger Events
The Glenoaks Ballroom in Glendale is extravagantly appointed with classic architecture, handcrafted woodwork, high ceilings, imported marble, mirrored walls, and a 60-foot crystal chandelier that will take your reception to the next level of elegance. With 4,500 square feet to accommodate up to 450 people, this sophisticated ballroom imparts the style of yesteryear from the moment your guests step into the red-carpeted entry.
The Glenoaks' open floor plan allows for your choice of seating options on both sides of the gleaming white dance floor, and the bridal party can take its place at the head of the room in front of a crystal-encrusted backdrop. The Glenoaks Ballroom offers a generous stage and, if you wish, the room can be customized with an alternate dance floor and your choice of materials to drape the walls to fit your design scheme.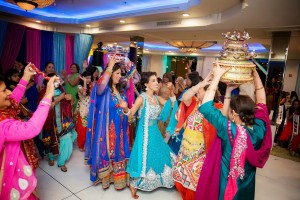 The Brandview Ballroom in downtown Glendale offers a sophisticated venue with 13,000 square feet, and can host up to 550 guests. Located in the historic art deco-inspired Huntley-Evans building, this premier banquet hall retains elegant stylistic details reminiscent of a bygone era but has been completely renovated for modern convenience.
Your guests will enter via an amazing spiral staircase featuring a two-story crystal chandelier. The ballroom has Italian onyx chandeliers, breathtaking floor-to-ceiling windows, and a sparkling white dance floor. The space is completely customizable with seating and dance floor arrangements to suit your wishes. The Brandview also features a beautifully outfitted suite for the bride and her party to use for dressing or touch-ups during the reception.
The Le Foyer Ballroom in North Hollywood has 5,500 square feet and can accommodate up to 550 guests who will enter through a foyer of imported Italian marble that features a breathtaking 25-foot fountain.
The venue can be arranged to suit your needs, and the ballroom's 16 arches and beautiful chandelier make a beautiful backdrop for any photos. Once dinner has been served, our lighting options can instantly transform your formal reception into a lively dance fest. Le Foyer also offers full butler service in its fully appointed bridal suite.
All of our locations offer state-of-the-art lighting, Wi-Fi, full audiovisual capabilities, and valet parking. Whichever venues you choose, you'll have at your disposal a talented and thoughtful L.A. Banquets event planner who can help you coordinate your catering, decorating, and other planning needs for a truly memorable wedding celebration.