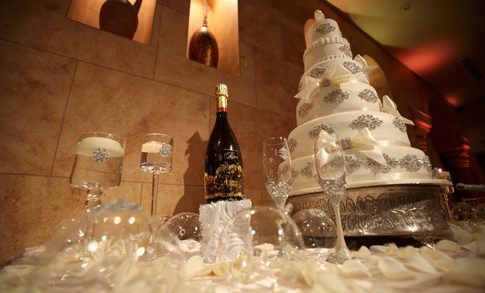 Tradition has created a laundry list of protocols and unwritten rules about weddings, especially when it comes to giving gifts. With everything else you have to consider after receiving a wedding invitation, the last thing you need is added stress over budgeting for, choosing and giving a gift.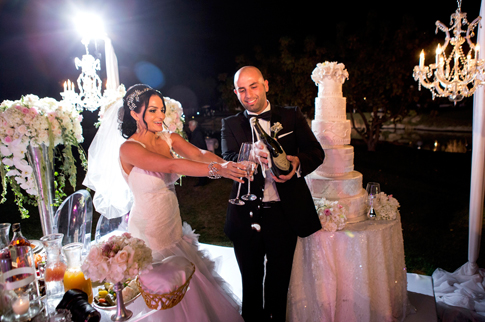 Decoding the Gifting Rules
Presenting a happy couple with an appropriate gift should be a straightforward process, but the etiquette surrounding this practice can be surprisingly complex. After the initial excitement of receiving an invitation has passed, it's hard not to start wondering about a million little details like:
How much should you spend?
What kind of gift is suitable?
Do you have to get a gift for every celebration surrounding the wedding?
Do you have to give a gift if you're in the wedding party?
When should you send or present the gift?
These questions can be just as confusing for brides as for guests, especially when it comes to giving gifts to the bridal party. Brides wrestle with the ins and outs of building a registry and the problem of where and how to let guests know about the finished "wish list" without appearing tacky. For guests, one of the biggest struggles is budgeting for expenses related to attending the wedding and still having enough left over for gifts.
Some wedding gift-giving customs are no longer thought of as taboo, and others are changing as more couples choose to get married later in life. Regional customs also affect the etiquette surrounding gifts. This guide will help you get an idea of the basic rules regarding gifting for pre-wedding celebrations and the big day.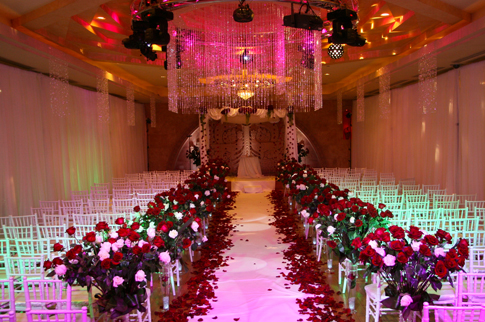 The Engagement Party
The first of several celebrations, the engagement party is usually planned and hosted by the bride's parents, but just about anyone close to the bride or groom may take the initiative. Meant to celebrate the happy couple's future union, the party is held shortly after the announcement of the engagement and may include only guests who will be invited to the wedding or a broader group of friends, family members, acquaintances and co-workers.
Do You Need to Bring a Gift?
In general, couples shouldn't expect engagement party guests to bring gifts. Between the upcoming bridal shower or wedding shower and the wedding itself, it's understandable everyone's budgets are going to be stretched a bit thin.
If you do want to give something, it's okay to keep it small. Budget about one-quarter to one-third of what you expect to spend on the main wedding gift, or go by the rule of spending 20 percent of your total gift budget. The closer you are to the bride and groom, the better idea it is to bring a gift. Present the gift at the engagement party unless it's something you're afraid will get damaged. Fragile items should be shipped directly to the couple instead.
Best Gifts for Engagement Parties
Because the happy couple is about to be inundated with gifts from shower and wedding guests, simple is best for celebrating their engagement. Appropriate gifts include:
Chocolates or other treats
Cookbooks
Decorative picture frames
Food or beverage club subscriptions
Gift cards or certificates
Personalized commemorative items
Wine or champagne
Cash is also an acceptable engagement gift, or you can give the couple something useful to help plan their wedding. For couples who enjoy trying new things together, consider giving a certificate for a couple's class in cooking, fitness or any other activity in which they've expressed interest.
Although tradition has evolved to make engagement parties another potential occasion for gift-giving, some couples specifically request their engagement party guests not bring gifts. If this is the case, respect their wishes and come simply to celebrate their happiness. You shouldn't feel obligated to spend more on top of expenses related to the wedding. Couples who do receive gifts should express thanks with notes or cards as soon as possible.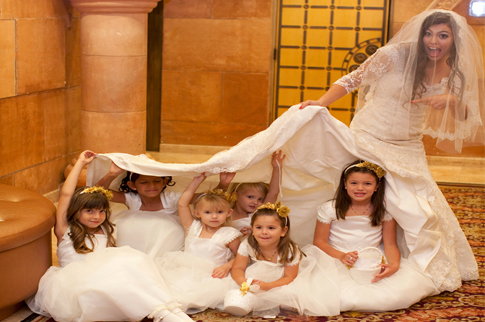 The Shower
Usually thrown by the maid of honor or the bridesmaids, the bridal shower occurs at least a month before the wedding date. With few exceptions, the purpose of the party is to help the bride get ready for the next phase of her life by giving practical gifts she and her groom-to-be can use to set up their home.
Your Gift Budget
Opinions differ regarding how much you should spend on a shower gift. Some guides break the numbers down by your relationship to the bride and suggest:
$50 for acquaintances and regular guests
$75 to $100 for friends, co-workers and extended family members
$75 to $150 for close friends and family members
Others put the numbers somewhere between $25 and $75. Regardless of suggestions, your personal budget is always the deciding factor. A general rule of thumb is to spend about 20 percent of your total gift budget on something for the shower and save the bigger spending for a wedding gift.
To set a gift budget, consider your total expenses for attending the wedding, including the dress, shoes, travel and accommodations. If you're going to the shower and not the wedding, you may be able to spend more on a gift. However, if you find yourself stretching your budget just to make it to the main ceremony, don't feel like you have to be extravagant with what you give.
Choosing a Gift
Household goods are always welcome as shower gifts. Some of the most common include kitchen items, such as small appliances and utensil sets, but it's hard to go wrong with anything domestic. Setting up a new home can be expensive, and young brides in particular appreciate receiving items they can use for years.
Another nice way to show the bride-to-be you care is to gift her with a certificate for a spa day, massage, manicure or pedicure. She's already going crazy with wedding planning, and the chance to be pampered for a little while is a welcome distraction. If you're invited to a themed shower, make sure your gift is in line with both the theme and the bride's personal tastes.
Some brides set up registries specifically for the shower, often including smaller items than those in the wedding registry. If this is the case, it takes the guesswork out of choosing a gift. You can be sure the bride will like whatever you pick out from the registry.
Wedding shower gifts are a little different because the party focuses on both the bride and groom. For this type of shower, you may want to consider giving:
Cookware or bakeware sets
Cookbooks for couples with accompanying kitchen accessories
Items to be used at the wedding, such as a cake serving set
Luxury bedding or towel sets
Monogrammed bedding
Personalized home décor
Whether you're invited to a shower for the bride or the couple, giving a handmade gift is appropriate if you know the guest or guests of honor very well and have been blessed with artistic, crafty or culinary skills.
Proper Protocol for Giving
Shower gifts are generally brought right to the celebration and opened either before or after food is served. If you can't attend the shower but still want to show your love and support, send your gift to the hostess far enough in advance so that it arrives in time for the party. Wrap the gift in an attractive box with some kind of decorative touch, or have it gift wrapped at the store where you make your purchase. Be sure to include your full name on the "from" line, especially if you're attending a shower with a large number of guests. Whoever hosts the shower should keep track of who gives which gifts so that the bride or couple knows to whom they should make out thank-you notes.
Shower hostesses should give the bride a gift, although it doesn't have to be anything lavish. In return for the shower, it's considered polite for the bride to bring the hostess a gift or card expressing gratitude for all her hard work.
On occasion, you may be invited to a gift-less shower. In this case, you don't have to worry about doing anything besides showing up and celebrating the upcoming nuptials with the guest or guests of honor.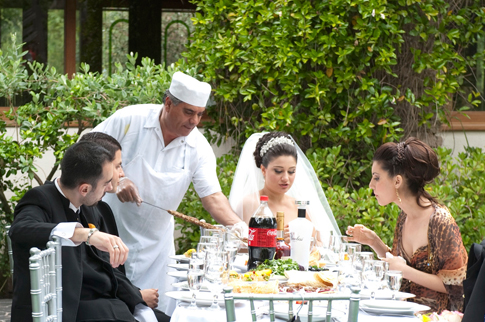 The Wedding
Gifts given at weddings are often the biggest and most expensive items you'll buy for the happy couple. With the exception of destination weddings, which require spending quite a bit more on travel and accommodations than you would for a local celebration, guests are expected to bestow gifts to commemorate the union with a token of love and appreciation.
What to Spend
In the past, etiquette used to dictate spending at least as much as the "price per plate" of the wedding in the mistaken idea it was necessary for guests to make up for what the bride and groom were spending to have them attend. However, because wedding costs can vary widely depending on location, tradition, the couple's budget and the growing trend toward minimalism, this rule has become outdated. Instead, The Knot recommends reserving about 60 percent of your gift budget for a wedding present.
What does this look like in actual dollars? A study by American Express revealed friends of couples spend an average of $99 on wedding gifts. Family members spend around $127. A review of The Knot's registry shows slightly lower spending for friends at an average of $79 but higher for family members, who spend closer to $146. General recommendations suggest you spend at least $50, between $75 and $100 if you're a distant friend or co-worker and between $100 and $125 if you're a close friend or relative.
As with the bridal or wedding shower, consider how well you know the couple when budgeting for your gift. Also take into account the expenses associated with attending the wedding, including travel, hotel and food. If you can't manage the minimum of $50, it's acceptable to pool funds with other guests in similar situations to purchase a larger item for the bride and groom. For example, if you know they need a good dining room set or a washer and dryer, get in touch with other guests to find out who's willing to go in on such a purchase. This way, you can give the couple a practical gift they'll appreciate and can use for years without stretching your budget too thin.
If you're close to the couple but are unable to attend, it's considered good manners to send a gift. Distant relatives and acquaintances who can't make it to the ceremony can send a card or small item instead of a larger present.
What to Shop For
Weddings are one of the easiest events to shop for because couples provide gift registries to help guests decide what to give. Registry information isn't included on invitations but may appear on shower invitations, wedding websites or "save the date" cards. All you have to do is browse the registry and pick a gift you can afford. Start shopping early to avoid being left with only a few items from which to choose.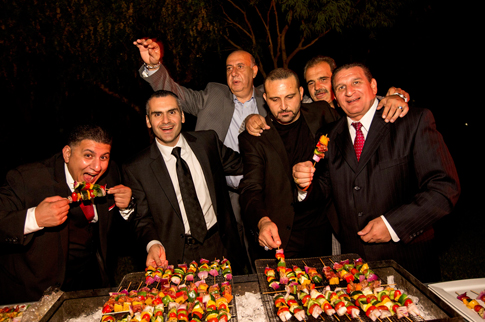 Household goods, including bakeware sets, utensil sets and blenders, are the most common gift requests found in registries. Because couples are just starting out, these kinds of practical items make the most sense as wedding presents. If you know the couple well enough, it's okay to go "off registry" and get them something you're sure they'll appreciate, but avoid novelty gifts with little or no useful function.
Other acceptable gift ideas include:
Luxury bedding or bath sets
Gift cards from stores where the couple is registered
Subscriptions to digital services, such as Amazon prime
An appropriate item "of the month" club
If you're really not sure what to get, consider a cash gift. Giving cash is becoming more common, and some couples actually prefer to receive money. The average amount of a cash wedding gift is about $150, but give what you feel is appropriate for your budget and your relationship to the couple. As with the engagement party, if the couple requests guests not bring gifts, you're not obligated to present them with anything.
When to Give
Unless the registry indicates otherwise, wedding presents should be shipped to the couple close to the date of the wedding. If you're unable to send a gift on time, don't believe the unwritten "rule" of having up to a year to give something. Make your purchase and have the item shipped no more than a couple of months after the ceremony so that the bride and groom don't think you've forgotten about them.
Although some traditions still hold with having a gift table at the ceremony, it's become customary at most modern weddings for all gifts to be sent ahead. The easiest way to send a gift is to let the registry site take care of the wrapping and shipping. If the couple registers at a physical store, send the gift yourself instead of bringing it along. Shipping the gift is also preferable if you have to travel to the wedding so that you don't have to worry about it becoming damaged during the trip.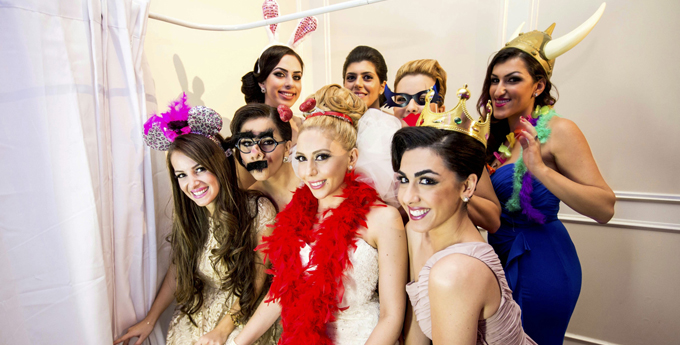 The Bridal Party
What do you do about wedding gifts if you're part of the ceremony? Bridesmaids in particular have quite a few extra expenses, including dresses, shoes, makeup and jewelry. Add travel and the cost of throwing a bridal shower, and you're spending a significant amount of money to help your friend celebrate her big day.
Should the Wedding Party Give Gifts?
Despite the hit to your bank account, etiquette does dictate members of the wedding party should give gifts to the happy couple. However, you shouldn't be expected to spend as much as guests who have fewer expenses. Take time to budget beforehand to ensure you have enough to cover a gift for the engagement party, the shower and the wedding.
Browse the wedding registry as early as possible to find a smaller item you can afford, or talk with other members of the wedding party about the possibility of purchasing a larger gift as a group. Focus your search on personal gifts with special meaning for the couple. The intent should be to show how much you care about and how happy you are for the bride and groom.
What Should Brides Give the Bridal Party?
Brides ask a lot of the members of their wedding parties. From the start of the planning process right up to the end of the reception, every special woman and girl gives her all to make the day unforgettable. It's only right to show appreciation with a meaningful gift.
Since the bride usually knows the members of her wedding party well, it shouldn't be difficult to choose items they'll like, appreciate and use for years to come. Some brides give gifts like shoes or accessories meant to be worn in the wedding, but this should only be done if the items can be worn again for other occasions. Giving something a bridesmaid will wear once and then stuff in the back of her closet fails to express proper appreciation and may even be seen as selfish. It's more appropriate to give:
Gift cards
Monogrammed personal items
Handmade gifts
Gifts should be something easy to transport for those members of the wedding party who have to travel and suitable according to age and the closeness of their relationship to the bride. Even the flower girl should get a gift, preferably something she's been hinting she wants or a special item she can treasure for the rest of her life.
How Much Should Wedding Party Gifts Cost?
Gifts given to bridesmaids should cost approximately the same amount to avoid perceived favoritism. However, brides usually spend more on the maid or matron of honor to acknowledge the extra time and effort she put into making the wedding go off without a hitch. Serving as the right-hand woman to the bride takes a lot of time and energy, and gifts should reflect the bride's gratitude for all the help.
Although $75 to $150 is a good average price range for wedding party gifts, it's also important to consider how much each person spent and how much is available in the total wedding budget. Planning for these gifts in advance ensures enough money is available to honor these special ladies.
When Should Gifts Be Given to the Wedding Party?
Bridesmaids generally receive their gifts at the rehearsal dinner or at lunch on the day of the wedding. It can also be fun to hand out gifts while everyone is getting ready and excitement is running high. Such timing is especially appropriate if the gifts are meant to be worn during the wedding. Some brides prefer to schedule a separate time to give gifts to their bridesmaids apart from the rush of wedding planning and preparations.
The most important thing to remember as you consider the protocols for wedding gift-giving is nobody is ever obligated to give a gift at any point. Giving gifts is a tradition in and of itself, and it's an act meant to express how much you care for the couple and show your support for their union. Stretching beyond your budget, driving yourself crazy trying to find the "perfect" item and stressing out over the best time to send gifts turns the entire process into drudgery.
If you need one rule to follow to make gift-giving easier the next time you're invited to a wedding, stick with doing what's most appropriate for the situation. This will differ depending on how well you know the couple, how long you've been friends or how closely you're related. Family and local customs may also come into play. Don't pressure yourself by worrying your gift won't be as elaborate or expensive as those given by others. What ultimately counts is the thought and care you put into the gifts you give.