It's always cause for joy when two people find each other and fall in love, not always an easy thing to do in this world. Now that laws are changing with the times, and marriage in California and other states is available to same-sex couples, we'd like to help you celebrate.
To begin, we have a staff of wedding planners committed to making your wedding everything you want it to be. Our collaborative team and hand-picked vendors will work with you to get every detail just right, from flower arrangements to table settings, from food to décor, from the lighting to the music. Creating new traditions or honoring the old, we will move mountains to make sure your special day is flawless.
We Can Help You Plan the Wedding of Your Dreams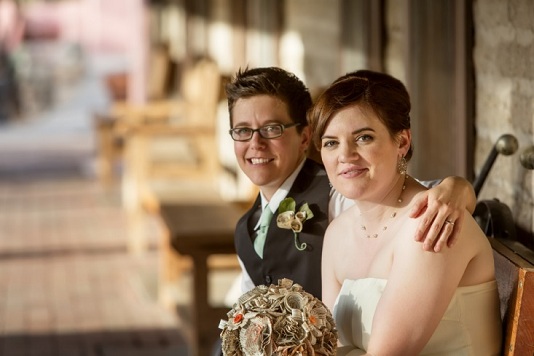 For smaller events, our modern Legacy Lounge and lavish Le Foyer Lounge each accommodates 70 guests, and the new open air Patio at Brandview accommodates 100 guests and is ideal for daytime or nighttime weddings. For larger events, consider the Legacy Ballroom, Glenoaks Ballroom, Brandview Ballroom, or Le Foyer Ballroom. Look through our image gallery for full 360-degree tours of each space.
If you don't have the picture of your perfect wedding in mind yet, our planners will listen to your ideas and use their own experience and expertise to bring them together in the most creative and cost-effective way possible.
It's Your Special Day — Make the Most of It
Many same-sex couples want to put their own spin on what's always been the typical wedding reception, breaking away from the routine that calls for a first dance, a dance with parents, a cake-cutting, and a bouquet (or boutonniere) toss. We say go for it! Your wedding should reflect your own taste and personalities, and should be a day made to order for the two of you.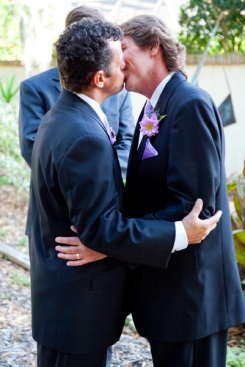 You may want a cocktail reception followed by a formal dinner, or decide to have a lavish cocktail buffet instead. Our catering and bartending staff will be delighted to create a custom menu that suits your style and is presented with impeccable flair.
We're also happy to help you locate entertainment that will keep your guests engaged without the traditional wedding formula. As you know, the Los Angeles area has many fine professional musicians and performers who can add a special touch to the festivities.
For example, you may not want to hire the entire 250-strong Gay Men's Chorus of Los Angeles, but members of the chorus are available to perform for you in groups ranging from a dozen to one hundred voices and are certain to bring the house down. At the other end of the spectrum, there are wonderful solo pianists, cellists, and classical guitar players, as well as anything else you can imagine.
Same-sex couples are forging new territory and making new traditions, and L.A. Banquets is eager to make the experience an authentic expression of your commitment and a true joy for you and your guests.