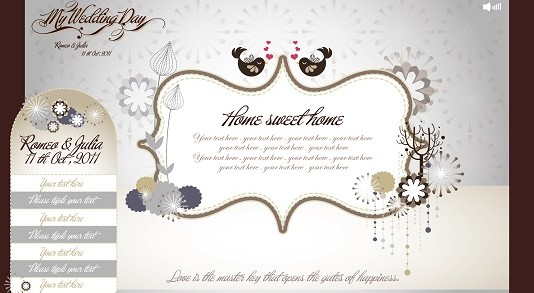 Once only for the tech-savvy, wedding websites have become so popular that 75 percent of engaged couples have them. Also known as "wedsites," they have evolved from "just the facts" one-pagers to multimedia, interactive productions filled with original art, slideshows, videos, bios of the entire wedding party, countdown timers to the wedding date, quizzes, polls, guest books, wedding vendor credits, and blogs.
If you're having an intimate wedding or just want to keep your personal stuff to yourself (an increasingly rare proposition these days), there's no need for a website. However, if you're inviting a lot of people, if you're expecting a number of guests to be traveling from elsewhere, or particularly if you're having a destination wedding, a website can be very helpful in terms of disseminating information and posting any changes to the plans. Even at that, you can designate a password for your site so only friends and family can enter or access certain information.
Setting Up Your Wedding Website
There are many dozens of online services offering templates and other help in building the websites. Some are free, and some are pricey because they include custom design and content production. Hosting services charge about $40 to $80 to maintain your site for a year; you may also choose to keep it active longer for an additional fee.
Deciding on the URL for your site may be tricky if you share popular names with the rest of your generation; there are more than two million weddings a year, and an awful lot of people named Jessica or Michael. Try combinations with your nicknames, initials, wedding date, dots, dashes and underscores, whatever will set you apart, but at the same time don't make it impossibly complicated or too long to fit on your save-the-date announcement or other places you may want to use it. Another option is to buy a domain name from GoDaddy and set it to redirect to your wedding website.
What Should You Put on Your Website?
To make it easy for visitors, the first page of your site should contain all the basic information for the wedding: date, place, and time. Don't make people scroll through everything else to find those things out. Do have clearly labeled navigation to other parts of the site so that someone looking for your registry can find it without having to listen to a playlist of the songs you danced to on your first date.

A mainstay of wedding websites is the "meet-cute" story of the bride and groom, the ups and downs of their relationship, and the wind-up to the proposal. While romanticizing the story a little is understandable, making a novel out of it is going too far. The two of you are endlessly fascinating to each other, as you should be, but be aware of the gag factor. Also be aware that the site may be read by employers, future employers, exes, your parents' friends, and, maybe most importantly, relatives who may never have met one of you.
The Things to Avoid
Don't include personal narratives that are appropriate for only your closest friends to read, or that cast anything either of you has ever done in a less than flattering light. Revealing that you were too intoxicated to remember each other's names after you first met, even if it does make for a funny story, is probably not the best way to introduce your future spouse. Keep things private that should stay private; don't fall prey to TMI syndrome.
You're certainly going to include some photos of the two of you, but edit carefully so your gallery isn't overwhelming. You might have so many great pictures that you simply can't decide, but make the effort. Regarding photographs of other people in love, most people think less is more and will be grateful.
Include Practical Information
The guests who will find your website most useful are the ones coming from out of town or joining you for a destination wedding. Be specific about logistics like travel routes and maps, available accommodations, expected weather, and local sights to see for anyone who's staying longer than a day or two. If you've put a hold on hotel rooms, make sure people know pricing and reservation deadlines.

Include a link so that people can download and print a document with relevant maps and directions, contact phone numbers, and any other important details.
If you're including information about the rehearsal dinner and any itinerary you've planned for out-of-town guests, be very clear about who is invited ("members of the wedding party" or "our families from the East Coast"). You might want to see if you can arrange a password-protected link to those details, or just send the information separately via email.
By all means include a link to your wedding registry, but some people also include a note with theirs along the lines of "What we really want is just to share our special day with the people that matter most, but if you were thinking about gifts, we're registered here." One honest couple's site said, "What we want most is to have you at the wedding to celebrate with us. That said, we also could use some dishware and a shiny new four-slice toaster, so here's where we're registered."
The Final Review
Before you go live with your website, make sure to double-check for spelling and grammar. The very last thing is to sit back and read it as if you were just meeting yourselves. Does it sound like the two of you and represent the kind of people you are and the kind of wedding you're having? Yes? Then let it fly!