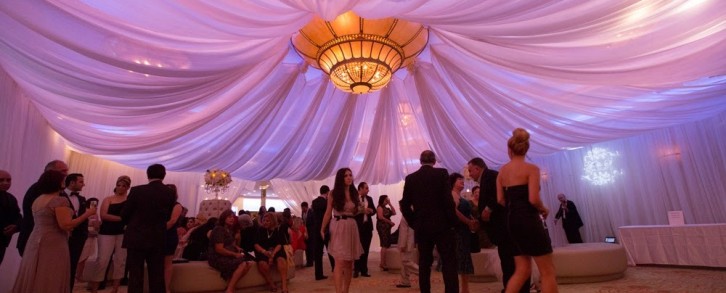 You've just become engaged and you're over the moon about it. You want to share your excitement with family and friends, but it's many months or even a year too soon to send wedding invitations. It's time for an engagement party to spread the word and celebrate!
First, a Few Guidelines
Who should host? Traditionally, the bride's parents host the engagement party, but this is 2015 and while traditions certainly have their place, that particular one isn't as important as doing what's comfortable for all of you. These days, many couples are hosting (and paying for) their own engagement parties.
Who should be invited? It's not considered appropriate to invite people to an engagement party who will not also be invited to the wedding. The exception would be if you're planning a destination wedding with a limited guest list, or if you live in LA but you're getting married some distance away in your home town and know that not everyone will be able to make the trip. Otherwise, when people receive an invitation to an engagement party they assume they'll be invited to the wedding, too.
When should we have it? It feels right to have an engagement party within two or so months of the time the ring lands on the bride-to-be's finger, but in light of the invitation list issue — and the fact that you don't want the party to compete with your wedding venue — it's best to have the basics of your wedding planning established before going ahead.
Does everything have to match the wedding style? Absolutely not. Mixing things up makes it more fun for everyone, including you. You don't need a suite of matching invitations nor a color palette that is the same for both events. Don't limit yourself!
Now, where should you have your engagement party?
For a Fresh and Casual Vibe
The Brandview Patio in Glendale is just the spot to celebrate your engagement in contemporary, casual style under the sun or beneath a star-studded sky. This spacious outdoor deck accommodates up to 100 guests and can be arranged to suit whatever you have in mind.
Your plans can include buffet or plated service at round tables, cozy lounge seating, and specialty cocktails at the rooftop bar. The patio's fountains add soft ambiance to the background, but the sky is literally the limit for adding musical or other entertainment. Located at the historic Art Deco-inspired Huntley-Evans building downtown, the Patio is a unique and tranquil setting convenient to everything yet high above the din.
For Old Hollywood Glamour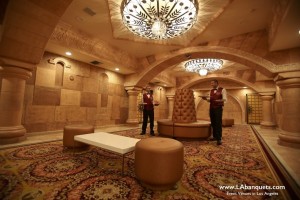 Le Foyer Lounge in North Hollywood offers an ambiance that is pure Old Hollywood, with lavish ornamental details, tiled stone walls, spectacular carved arches, and a gently bubbling fountain. Le Foyer Lounge accommodates up to 70 guests and can be arranged with round dining tables or one long table down the center of the room.
The cozy bar can be set up for cocktails, or you can offer tray passed service. The front of the room offers space for a stage if you like, the ideal spot for live music or a DJ.
Catering at all of these distinctive locations is by Anoush and its exemplary service staff, with Anoush Signature bartenders to add special flair. All locations offer valet parking. Whichever venue you choose, you'll have at your disposal a talented and thoughtful LA Banquets event planner to work with you and make sure your every expectation is surpassed.