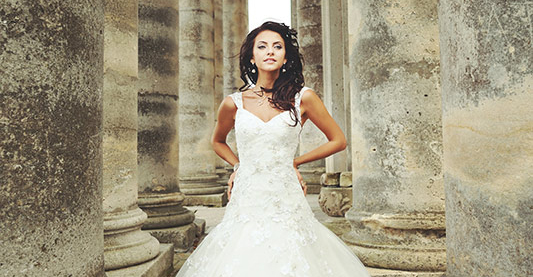 Destination weddings are becoming increasingly popular, and with good reason. These types of affairs allow couples to celebrate their big day in an exotic locale while sharing the experience with family and friends. It's a fantastic opportunity for a bride and groom to create a foundation of special memories that involve travel to a beautiful part of the world.
However, destination weddings are simply not right for everyone. The expense of travel may prove too great for some guests, some family members might not be able to fly for health or personal reasons, and the amount of planning and effort that goes into a destination wedding might not be feasible for some brides and grooms.
Luckily, there are countless ways to incorporate a destination theme into your wedding, even if you're holding your ceremony and reception in your home town. A great wedding planner will be a wealth of ideas for a travel-themed wedding, but you can always incorporate your own ideas, tastes, and personal aesthetic into your wedding plans, which will allow you to create an exotic and luxurious atmosphere that evokes all of the destination-wedding magic that you dream of.
Put the passports away, cancel the visa application at the embassy, and dive into these wonderful ideas that can help you plan the destination wedding of your dreams without ever leaving home.
Make Your Venue Feel Worlds Away
Once you've decided that you want your wedding venue to invoke the aloha spirit of Hawaii or the lush jungle temples of Asia, the first step is to consult with your wedding planner. Let him or her know that you have a vision, and the two of you can work together to make your dreams become a reality.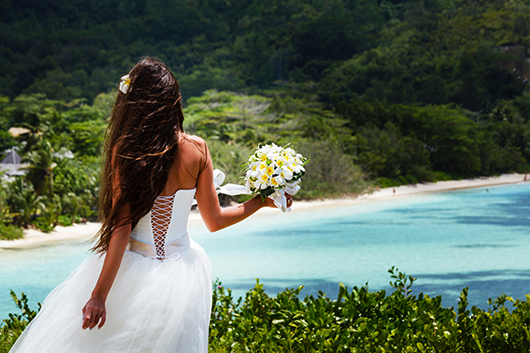 Exotic plants and flowers are a perfect way to make your space feel as if it's worlds away. Potted palms, orchids, flowering plumeria trees, and jasmine are all incredible choices that will make your venue come alive with the heady scents of the islands. Combine these tropical blooms with linens in cool, beachy colors, bamboo accents, and soft lighting, and your guests will feel as if they've been whisked away to the tropics. A ukulele player and cocktails bursting with fresh fruit can't hurt either!
A good wedding planner should have all of the resources and vendor contacts to make your destination ideas happen. Whether you dream of the islands, a summer night in Paris, or a New York state of mind, ingenious furniture ideas, stylish linens, and other decorating tricks will make your venue come alive —and will allow your special day to be that much more special.
Say It With Food
Once you've decided on the perfect way to bring your destination theme to life with your beautiful venue, it's time to think about your menu. Food is a fantastic way to bring your ideas full circle, and your menu allows you to subtly guide your guests on a journey around the world.
When you meet with your prospective caterers, be certain that you're clear about your theme, and add as many details as you can. While a luau-themed dinner might seem like it's perfect for your wedding, it can easily become too kitschy before you know it.
Understated elegance is a great way to approach your catering ideas. Think of a sexy seafood dinner with a few local delights thrown in to transport your guests to Hawaii. Imagine a dim sum cart laden with scrumptious treasures that will make your guests feel like they're in the mysterious and exotic city of Hong Kong. You can even serve your guests delectable wild game dishes if a mountain cabin is your ideal getaway. The possibilities are endless.
If your caterer can provide service staff that will immerse themselves in your theme then your event can be even more spectacular. A Bollywood-costumed waiter offering a tray of delicious curried chickpea appetizers? Yes, please!
Dress the Part
While an aloha-print dress might be right for some brides, most will want to stick with a more traditional style of dress for themselves and their wedding party. However, this absolutely does not mean that you can't incorporate some of the spirit of your destination into your attire.
For instance, sari fabric with its bright jewel tones and delicate embroidery is beautiful and can be used for custom-designed dresses for your bridal party, which will instantly mesh with an Indian-inspired wedding. Traditional and elegant qipao-style dresses in crimson and gold will make a beautiful Asian statement and may leave many of your guests asking where they can get one for themselves.
Even if you want to wear a traditional white gown for your big day, it can be easy to choose a dress that feels as if it would be at home on the beach. Choose a gauzy, flowy dress with thin straps and a low-cut back, and ask your hairstylist to incorporate tropical blooms into your updo. Consequently, your betrothed and his groomsmen can add orchids to their boutonnieres, or they can even don pocket squares in a subtle Hawaiian print that matches your color scheme.
With just a little bit of work and some careful attention to detail, you and your planner can easily create the destination wedding of your fantasies right at home. Deck out your venue, choose a delicious and exotic menu, and have fun with the clothing choices for yourself, your groom, and your attendants. With this easy, breezy approach to a hometown destination wedding, you can leave the passports untouched until you need them when you board the flight to the honeymoon of your dreams.