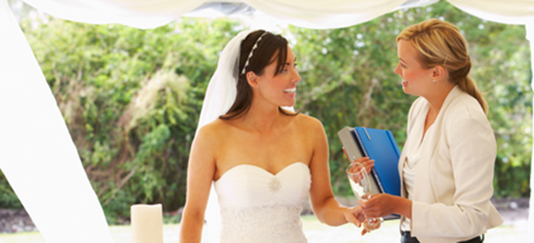 Once the fawning over the ring and congratulatory brunches are over, a date has been set, and it's time to begin the real work, even the most Type A brides can feel a bit overwhelmed. While some newly engaged ladies might feel that they're capable of pulling off the biggest event of their lives, the reality is that involving a wedding planner is always going to be in the best interests of your sanity.
No matter how connected you are or how good your organizational skills are, a good wedding planner can do the things that most busy brides aren't always capable of. These marriage magicians have contacts with vendors for every type of service imaginable, and they're perfectly poised to make your wedding details come together spectacularly.
While the perfect wedding planner is going to make your wedding experience so much easier, it's not always easy to find that wedding wizard who is the perfect combination of responsibility, energy, and personality (with a little bit of psychologist thrown in for good measure).
When it's time for you to begin interviewing for the perfect wedding planner, be sure to ask these five questions to help ensure that you work with the best for your big day.
1. References
When word gets out that you're newly engaged, you'll likely be inundated by recommendations from friends and family members. Of course, these people have your best interests at heart, but unless you have first-hand knowledge of the person they're suggesting, it's wise to be sure that you conduct your own background checks as well.
When you meet with prospective planners, ask for client references. You'll want to personally speak with both current and past clients to get a feel for how the planner operates. Are/were the clients satisfied? Were there any problems or mishaps that weren't immediately resolved? Would they recommend this planner to others?
Additionally, ask for vendor references. If the planner's preferred vendors speak highly of him or her, that says a great deal about their professionalism.
2. Budget Basics
Working with a planner who will stick within your personal budget is tantamount to a successful wedding, but some planners simply aren't able to do that. If your budget is set in stone, you'll need to make sure that you aren't hit with some nasty surprises along the way.
When you meet with potential planners, outline your budget right away. Ask if they are able to work within the budget amount successfully, and ask to see some details and examples from other weddings that were held for a similar budget. A good planner should be able to work within any budget and meet most of the couple's needs while doing so.
3. Vendor Variables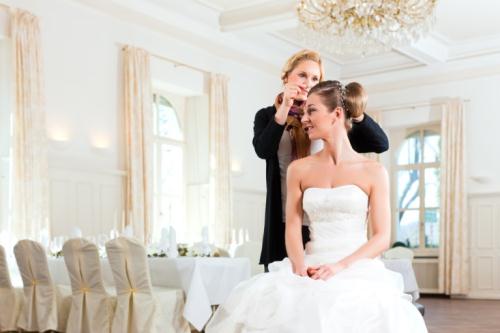 One of the main reasons to hire a wedding planner is that the bulk of the details falls to someone else, and ideally that someone has the connections necessary for the job. A good wedding planner should have relationships with caterers, dressmakers, furniture and prop rental companies, florists, photographers, bakers, and all of the other businesses that help make a wedding the most wonderful that it can be.
Quiz your potential planner about the vendors that he or she prefers. Why is Business A better than Business B? Does the planner receive any discounts from preferred vendors? Does the planner utilize backup services and vendors in case of emergency?
While your planner may be the most important person in your life in the days leading up to your wedding, his or her vendors should rank a close second. Make sure that you know exactly whom you'll be working with.
4. Communication Style
The ability to effectively communicate with your planner during the months leading up to your wedding is crucial, so you'll need to know the best way to accomplish that before you begin. You're not likely to be your planner's only client, so relaying information and discussing important details in a timely manner is of the utmost importance.
Does your planner prefer to communicate by phone or by email? Are you able to text him or her and expect to receive a reply quickly? Does the planner's schedule allow for frequent in-person meetings? All of these are important topics to bring to the table during an interview.
Additionally, ask if he or she utilizes social media platforms. Pinterest and Instagram can be great ways to communicate ideas and photos without the need to schedule a meeting or lug around a binder full of pictures and magazine clippings.
5. Additional Services
More and more wedding planners are expanding their businesses to include other services that the bride and groom may require. If you'd like to remain relatively hands-off during the planning stage, you'll need to be sure that the person you choose to work with is up to the challenge.
Will the planner handle the addressing and mailing of the save-the-date cards and the invitations? Can your maid of honor consult with the planner for the bachelorette party details? Does he or she offer honeymoon planning services?
While many planners will be happy to point you in the direction of other companies that can manage these details for you, if you want your planner to handle all of the duties, establishing that fact up front is crucial.
Creating the wedding of your dreams may seem daunting initially, but that's what wedding planners are for. Ask all of the right questions during your interviews with prospective planners, hire the one who is right for you, and your wedding can become the proverbial piece of cake.