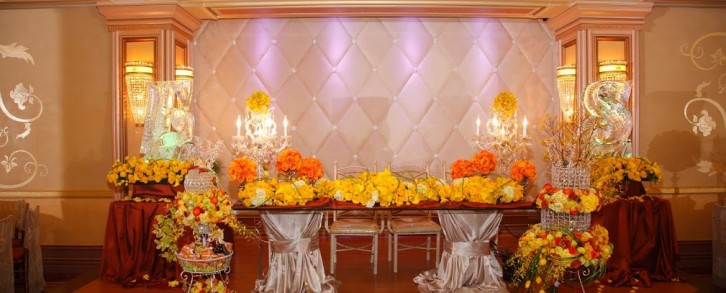 Springtime is one of the most beautiful seasons for flowers, and if your wedding is planned for the Los Angeles area between March and the end of May, you'll have so many gorgeous choices of blooms that you may simply be overwhelmed. Not only will a bounty of flowers be available, many from local Southern California growers, but they'll be far less expensive than if you had your heart set on them at any other time of year.
Achingly lovely pastel tones are the hallmark of many spring flowers, but there are bold colors, too. Alone or in gently matching or vividly contrasting hues, spring flowers make gorgeous bridal bouquets, boutonnières, and centerpieces. No matter what you choose, these spring flowers will make your wedding venue feel fresh and inviting. Here are some of the most popular spring flowers:
Anemones
Anemones look somewhat like poppies, with striking dark centers often encircled in white. They come in creams, pinks, reds, purples, and shades of blue, and add dramatic contrast to other flowers in a mixed arrangement for a bouquet or a table.
Calla Lilies
Calla Lilies are the classic, elegantly long-stemmed flowers that generations of brides have carried, often just a few tied with a wide satin ribbon. Most often seen in white, calla lilies also come in very deep purple, burnt orange, bright yellow, orange, and red.
Daffodils
Daffodils, also called Narcissus, are quite possibly the cheeriest flowers in the world. Symbolizing rebirth and new beginnings, they're virtually synonymous with spring. Daffodils come in yellow, white, and combinations of yellow, white, and orange, and because they tend to wilt quickly out of water, they're best used in centerpiece arrangements.
Gardenias
Gardenias have a swoony fragrance and a definite romantic nature. A bridal bouquet of gardenias in a shade of white or creamy ivory would be gorgeous, and a single gardenia makes a perfect boutonnière.
Hydrangeas

Hydrangeas are an over-sized bloom made up of massive numbers of small flat petals. They come in white, and shades of pink, blue, purple, and pale green. While a few can be mixed with other flowers in a bouquet, because of their size, hydrangeas are more commonly used in centerpieces.
Lilacs
Lilacs are the quintessential flower of spring in colder climates, but are now successfully being grown locally. Their large, luscious, and aromatic blooms are composed of multitudes of the tiniest petals and you can find lilacs in pinks, purples, and white.
Lisianthus
Lisianthus, also known as Texas Bluebell, is the descendent of a native wildflower. They can be single or double-flowered, with several ruffled petal blooms on each stem, and add charm to any bouquet or centerpiece. Lisianthus come in shades of white, pink, lavender, and purple, and in bi-colors like blue-violet.
Peonies
Peonies are large, lush, and romantic. The traditional floral symbol of China, and a favorite of brides everywhere, some have a single layer of petals, and some have multiple layers that create a rounded bloom. Peonies typically come in white, ivory, and every shade of pink from the palest blush to deep rose. They also come in coral, lavender, and deep burgundy. Even in season, peonies are pricey, so they're usually used in bouquets rather than in centerpieces.
Ranunculus
Ranunculus, sometimes known as Buttercups, are small, delicate flowers with whisper-thin petals wound in multiple layers. They come in white, pink, red, yellow, and orange, and are a lovely addition to a bouquet or centerpiece.
Ranunculus flowers are famously grown here in Southern California, just over an hour away from Los Angeles in Carlsbad.
Roses

Roses are available year round, but in springtime, what could be better than a bouquet of homegrown roses in first bloom? Regardless of where they're grown, though, nothing says true love more eloquently than a rose. Available in endless varieties and a rainbow of colors, from pure white to the deepest shades of red and purple, as well as in combinations of tones, roses are perfect on their own or mixed with other flowers.
Sweet Peas
Sweet Peas are small, delicate flowers that can evoke a country backyard or be entirely urban in an arrangement of sturdier blooms. They come in one of the widest ranges of colors in the flower world, some solid, and some bi-colored, striped, or swirled. Choices include blues from pale to navy, and multiple shades of red, pink, purple, magenta, and peach, as well as white. The only color they don't come in is yellow.
Tulips
Tulips are simple, graceful flowers that lend themselves to the most ornate or modern arrangements. They look beautiful by themselves or mixed with other flowers in a bouquet or centerpiece. Tulips come in pure white and almost every color of the rainbow.