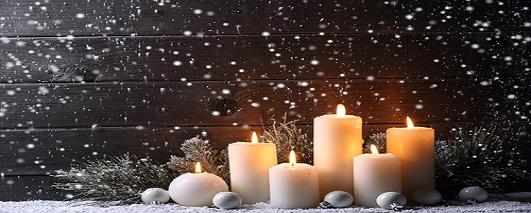 Weather doesn't get much better than what we've got here in Southern California. Even in December, it's likely to be sunny and warm. However, if you were raised on the classic winter images from magazines, greeting cards, and the movies, the holidays just don't seem right if it's not snowy, hot-chocolate weather.
You can't change the temperature outside, but you can create a winter wonderland inside to surprise and delight your guests. Whether it's a year-end company party or your annual holiday event, here are some tricks that will have people believing that Jack Frost is nipping at their noses.
Set the Mood

Conjure winter in a Los Angeles event venue with decorations in white, tones of icy blue, and lots of shimmery, reflective surfaces. Tall birch branches sprayed with fake snow and lit with chilly blue uplights can form an arbor as guests enter, and more can be arranged in clear glass cylinders on the tables with crystal icicle ornaments hung from them. Clear Plexiglas tables and chairs are the ultimate in frostiness, but sparkling white tablecloths and silver accessories will also provide the right look.
Lots of white candles are a must for their holiday glow and warmth. Pillars and tapers massed on dining and buffet tables in heights high and low, votives hanging in clear glass bubbles and tucked next to place settings in holders that look like snowballs, wherever and however you can place them. The scent of evergreens will take guests right to a winter forest, so use them in the décor, too. Arrange pine cones amidst sprigs of fragrant fir, pine, or spruce, and dust them all with snow.
With the room lighting low, white twinkle lights strung across the room will add to the feel of being outside on a nippy night. Add to the effect by hanging snowflakes from the ceiling on clear filaments.
Serve Winter at the Bar
The offerings at the bar can also continue in your wintery theme. Snowball martinis in stemmed glasses rimmed with crystallized sugar feature whipped cream flavored vodka. Velvet snowflake martinis are decadent with vanilla vodka, white crème de cacao and white chocolate Irish cream. White Russians are a luxurious blend of vodka, coffee liqueur and cream. Try a holiday favorite: egg nog with bourbon, rum, or brandy and a sprinkling of nutmeg. Sparkling apple cider is a festive non-alcoholic choice, with candy canes as swizzle sticks. After dinner, hot chocolate with marshmallows is the perfect winter treat.
Have an Abundant Holiday Buffet
You can't go wrong with the traditional turkey, ham, and all the fixings. You could also do a spread based on the holiday traditions of other countries. Or you could just serve whatever delicious food you think everyone would like. Abundant, beautiful platters of it.
When it comes to dessert, there is almost no end to the choices. It might be fun to have a French bȗche de noël or towering croquembouche, an Italian panettone, an English plum pudding, or an Australian pavlova. To keep the wintry theme going, serve trays of the German pfefffernüsse, Greek kourabiedes, Mexican wedding cookies, and Russian tea cakes that are all rolled in snowy white powdered sugar. And don't forget the white chocolate truffles and coconut sno-balls. A delectable array of any holiday cookies is always a crowd pleaser. Fruitcake? That's up to you.
Make It Musical
Music brings every party to life. You probably planned to have a DJ or a band, but you can also hire a group of carolers, a choir, or an exceptional local musician (a classical guitarist, for example) to put on a performance. The Los Angeles area is home to a remarkable number of fine professional musicians who are happy to play at private parties; you might get lucky hiring from craigslist, but also check the Internet for booking agencies.
Share the Spirit

If you'd like to involve your guests in sharing the spirit of the holidays, display a big pile of teddy bears or other stuffed animals and let each guest select one and write out a nice card to go with it. After the party, deliver them to a hospital or shelter.
Transport your SoCal holiday party to the North Pole this winter with these helpful tips. Happy planning!