What's worth celebrating more than a loving commitment that has lasted through the years? Whether you're throwing a party for yourselves or hosting one for your parents or another special couple, it should be an event that's sentimental and filled with reminders of good times.
Invite the Guests
Once you've selected a date and venue, send out the invitations as far in advance as possible so people can plan to be there. With the busy lives most people lead, it would be a shame for someone who has been important in the couple's lives to miss the party because he or she didn't have enough notice.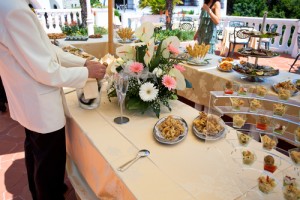 Typically, invitations to anniversary parties carry a "no gifts, please" message, but do ask for one thing: request that everyone come up with a written reminiscence about the couple and to include photos if they've got them. You can even include a blank card for that purpose in with the invitation, or specify a size of paper you'd prefer that people use. As guests come in, they can post these on a big display for everyone to see, and later you can put them together in an album. For the display, use an oversized corkboard with push pins or a ribbon "clothesline" with colorful clothespins or metallic or plastic paper clamps.
Are You Renewing Your Vows?
Sometimes, celebrations of major anniversaries include a vow renewal. If that's what you're planning, see if you can arrange for the original officiant to conduct it. As an alternative, the couple can simply write and recite their own renewal vows to each other. If members of the original bridal party will be attending, include them in the ceremony. How lovely if the now-grown-up flower girl is there!
Whether or not a vow renewal will be included, toasts and spoken reminiscences are an important part of an anniversary party. You are, after all, celebrating a couple's life together and the special parts other people have played in it. Arrange in advance who will be speaking, but be open to spur of the moment participation; some of the best remarks can come from someone who remembers a story from a different point of view. And don't forget the champagne.
Crowd-Pleasing Entertainment
If you have the means to arrange it, a slideshow or video compilation of photos and home movies can be both funny and touching. Five or 10 minutes is all you need; any longer and you risk losing people's attention. It would be a nice idea, also, to blow up some photos from the original wedding and have them on easels in a place of honor. (Your venue should be able to supply the easels.)
Great food and drink are always the centerpiece of a party, but after that, it's the music. Keep the memories coming by playing music of the wedding era.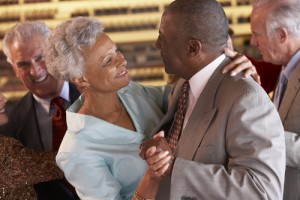 A 25th wedding anniversary party calls for music of the early 1990s: Madonna, Mariah Carey, Michael Bolton, Billy Joel, Luther Vandross, Aerosmith, and Bon Jovi. A 50th anniversary party calls for music of the mid-1960s: The Beatles, The Rolling Stones, The Supremes, The Righteous Brothers, The Beach Boys, Petula Clark, Four Tops, and The Temptations. The best online lists of the top 100 songs by year going back to 1958 can be found at www.billboard.com/archive/charts. For chart-toppers prior to 1958, Wikipedia has some good lists.
Themes and Decorating
Should you have a cake? Of course! It doesn't have to be tiered and decorated like a wedding cake — though that would be fun — but it should be something special. If the couple's original cake topper is available, by all means use it.
Fortunately, the milestone anniversaries lend themselves easily to decorating schemes. Silver (25th), Pearl (30th), Ruby (40th), Sapphire (45th) Golden (50th), Emerald (55th), and Diamond (60th and 75th) anniversaries can be expressed with your linen and tableware choices as well as with other design elements. If you pick a beautiful venue, there's no need to go overboard carrying out one of these themes, but it's a good starting point.
Make New Memories
To capture new memories, do hire a photographer for the evening. Instruct him to get photos of each guest with the anniversary couple not only for the party album, but also to be given to the guests later. It's surprising to discover how many important people in our lives we don't have photos of, and these can be a special treasure.
And did you know that the White House will send a congratulatory card signed by the President to any citizens celebrating an anniversary of fifty years or more? Send your request at least two months ahead of time through the Constituent Services function of California's U.S. Senators Barbara Boxer or Dianne Feinstein or through your local Congressperson. You can also send your request directly to: The White House Greetings Office, 1600 Pennsylvania Avenue, Washington, D.C. 20500.
L.A. Banquets has a reputation for being one of the top Los Angeles event planners, and we would love to help you plan the special anniversary party you and your loved one deserve.