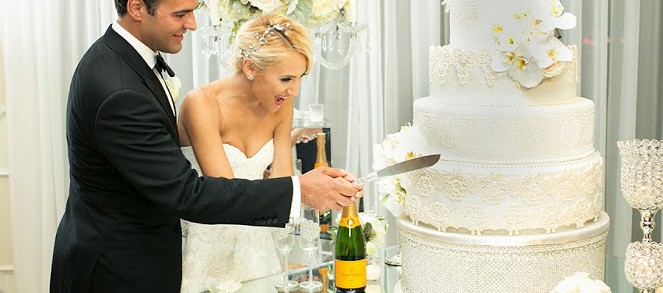 Since the ancient Romans ended wedding ceremonies by breaking a cake of wheat or barley over the bride's head as a symbol of good fortune, weddings have been celebrated with a special cake. Traditions evolved through the ages, and for the past 150 years or so, a tiered white cake has been the single most iconic wedding image there is. Today's cakes, though, take many shapes and colors, and choosing one for your wedding is a sweet, but sometimes confusing, task.
1. Book a Baker Early
Any wedding planner could tell you that good bakeries in L.A. book up fast, particularly for Saturday weddings in the very popular wedding months of June, September, and October. Do your research by asking for recommendations from your venue, caterer, and friends. You've likely been scrolling through Pinterest and making notes on what kind of cakes you like and what styles and colors of decoration would best suit your wedding. Bring photos with you when you interview bakers, and listen to suggestions they offer. Your perfect match will be a baker who's able to do what you want at a price you can afford. Wedding cakes are priced by the number of guests they can serve as well as how elaborate they are, inside and out. Be prepared to pay anywhere from $4 to $10, and up, per slice.
2. Decide on the Shape
A graduated series of round layers is the traditional style, but tiers of square layers have become very popular and lend themselves to a contemporary-style wedding. Other shapes like hexagons and ovals are possible, as are more whimsical shapes that your baker can create from standard geometric forms.
3. Decide on the Icing
Once you have decided on the shape of your wedding cake, the next move is to determine the icing you would like, if any. The five most common icings are:
Buttercream is made from butter and sugar and flavorings are easily added. It's rich, smooth, and stays soft, so it can be spread smoothly or piped in latticework, basket weaves, or other patterns. It's also used to create swags, rosettes, and other decorations, and it can be used as a filling, too. Because it melts in extreme heat or humidity, it's not a good choice for outdoor weddings.
Fondant is made from sugar, corn syrup, and gelatin that's rolled out and then molded over the cake. It's the most popular coating for wedding cakes because of its clean, porcelain-like finish. It is also easily molded and is good for draping, but it does not take well to flavorings. For this reason, most bakers will frost the cake in buttercream before adding the fondant as a finishing touch.
Ganache is made from chocolate and cream, and is as delicious as it sounds. In its standard form, ganache is poured over the cake for a smooth, glossy finish, but it can also be whipped and applied like buttercream. However, it will melt in the sun and can't be colored the way other icings can.
Marzipan is made from ground almonds, sugar, and egg whites, and can be rolled and draped the same way as fondant. It's more generally used to mold edible flowers or fruit as cake decorations, but as an icing it's indescribably more delicious than fondant. The downside is that marzipan is often more expensive.
No frosting at all is a growing trend for wedding cakes, and is simple and beautiful when the cake is decorated with fresh fruit and flowers. A naked cake won't be protected from the effects of air or air conditioning, though, so it's more likely to dry out if it's held too long before serving.
4. Decide on the Decorations
Your cake can be decorated a multitude of ways, including with piped beading, scrolls, swags, lacework, Swiss dots, flowers, leaves, or other elements made with buttercream or firm-textured royal icing. More detailed and realistic flowers are usually created from gum paste (a combination of sugar, cornstarch, and gelatin) or marzipan that is hand molded and delicately painted or airbrushed.
Another technique is pulled sugar, in which air is incorporated into boiled sugar by a process of pulling and folding; it produces shiny, translucent flowers, and bows. Pulled sugar can also be blown like glass, to form bubbles and other unique shapes.
Keep in mind that all of this handwork takes time and talent, and for that reason can be quite expensive. An alternative is to have your cake decorated with fresh flowers or a combination of simple piping and fresh blooms.
5. Decide on the Flavor
This calls for a tasting, where the baker will set out a tray of cake and filling samples for you to try. Ask ahead to see what the selection will be so you can add to it if you have something specific in mind. Pretty much all wedding cakes used to be vanilla, but that has since changed. You can have a different flavor and color for each tier and go wild with fillings if you want. The outside of your cake is important, of course, but as with people, it's what's on the inside that counts!