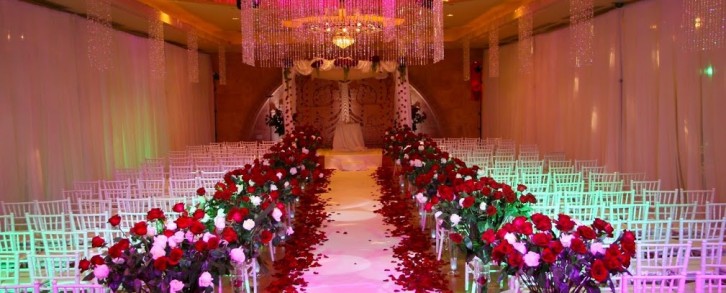 Your wedding is the surely the most important event you've planned in your life until now, and it will certainly rank among the most important you're ever going to plan. You could rush into it headlong, doing things in the order that they come into your mind, making decisions on the spur of the moment with post-it notes stuck to everything but the dog, and hoping it will all turn out fine, or you could take a little time to learn what you've got to do, plan your approach, and sail toward your wedding date in calm control.
Getting Started
The very first thing to do is determine your wedding budget, because it will influence every other decision you make. If you jump right in without knowing the bottom line, you may wind up wasting thousands of dollars in deposits on things you ultimately find you can't afford. It isn't always how much you spend, but how you spend it. Decide your priorities and go from there.
Next, choose a wedding planner. Even if you already have a pretty good idea of how you want your wedding to go, a planner will be able to negotiate great deals for you and make everything go smoothly. At the very least, you should consider having a coordinator for the actual day of the wedding to coordinate the fine points and take away some of the stress on the big day. (Some wedding venues provide this service for a fee.)
Imagine Your Dream Wedding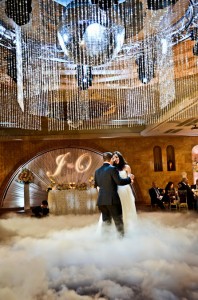 Now pick a date and a location. This may take some juggling, especially if you'd like to have your ceremony and reception at different locations. You'll want to pick a beautiful venue that complements your dream day. You may have to compromise to steer clear of major holidays and other major events involving close friends and relatives, but you'll be happier in the end when all of your nearest and dearest are able to attend your own celebration.
Next up is determining your guest list and honor attendants. You will have thought about how large (or small) you'd like your guest list to be when you chose your venue, but now you've got to start making decisions. Decide if and how you're including children and plus-ones, and make that decision known so your guests can make appropriate plans. (While you're at it, make sure you've got everyone's first and last names spelled correctly, and begin collecting addresses.)
You've probably been thinking all along about how you'd like your wedding to look and feel, so finalize those thoughts before you go forward so that everything is cohesive. This includes your save-the-dates and invitations, your dress and what everyone else will be wearing, the décor and flowers, the cake, the music, and maybe the menu, too.
Nail Down the Specifics
Now that you've got the look in mind, you can send save-the-dates and design your wedding website. Remember that older relatives may not have access to or be interested in the social network thing; make sure you don't leave them out of announcements and important information.
If your venue doesn't include catering, don't wait long before selecting a caterer. You also want to reserve a band or DJ, florist, photographer, and videographer as far in advance as possible. Decide who's going to make your wedding cake, too. Popular vendors book up fast.
It can take many months for a wedding dress to be delivered, so shop for that next. It's certainly possible to buy a beautiful dress off the rack and have it altered to fit you perfectly, but if you've got your heart set on ordering one special gown, allow at least four months for it to arrive, and another few weeks at the least for it to be altered.
Your wedding party also needs to be dressed, of course. Delivery of bridesmaid dresses usually takes 2-3 months, and they often have to be altered as well. You also have to order attire for the male contingent; don't expect to find all the styles and sizes you need to be available at the last minute.
Wedding invitations should be mailed at least eight weeks before the big day (with RSVPs due three weeks before the date), so order them with enough time to address them, whether you're doing it yourself or hiring a calligrapher.
Last-Minute Items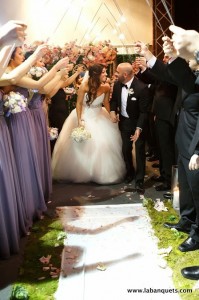 In the final months before the wedding, order your wedding rings, reserve transportation, book rehearsal and rehearsal dinner locations, test out your wedding hairdo and makeup, order gifts for your bridal party, and find out if your religious service requires any special documents in addition to a marriage license. Don't apply for that license too far in advance; in California they're only good for 90 days.
A month before the wedding, if you haven't done it sooner, collect special items you'll want for the ceremony, write your vows, confirm with all of your vendors, make a day-of schedule and contact list, catch up on thank you notes, and keep on top of RSVPs so you can begin planning the seating chart.
The last weeks before the wedding will go by in a blur, with piles of personal stuff to take care of that no one else can plan for you. Just stay calm and organized, and don't forget to have fun as you keep your eyes on the prize: a memorable wedding celebration that brings family and friends together to send the two of you off into a loving life together. Everything else is just details.
See our printable month-by-month wedding checklist:
WEDDING PLANNING CHECKLIST