So you're engaged, you've chosen your bridal party, you have a thousand and one dress ideas, you've hired a planner, and you've established a budget. While everything may seem as if it's falling into place, the fun — and the potential headaches — are just beginning.
Sticking to your budget may be the most difficult part of the planning process, especially when it comes time to choose your menu. With so many delectable choices of cuisine and your desire to give your guests the best possible experience, it can be easy to become tempted to increase your budget. However, if that happens you'll ultimately find yourself cutting costs elsewhere.
With the help of a good planner, you'll find it easy to stick within your budget and still offer your guests the wedding feast that they want. Simply follow these simple rules and your wedding reception will shine as brightly as you do on your special day.
Work Closely With Your Planner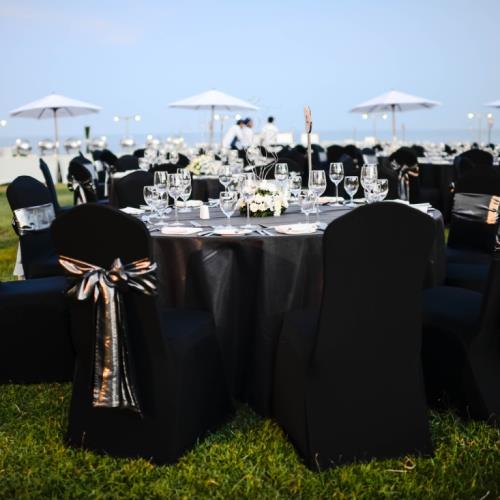 Your wedding planner is your best ammunition when faced with a budget battle. He or she has the necessary experience and the roster of catering contacts that will help you stick to your spending limit. It's important that you're absolutely clear about the amount of money you have to spend on catering, then you can let your planner work their marriage magic.
Your planner may also be able to secure discounts with various vendors and caterers, which can ultimately save you money. Additionally, depending on the size of your guest list, volume discounts may also be available. It never hurts to wheel and deal a bit as long as you're not sacrificing quality by doing so.
Lastly, keep your planner apprised of any budget changes that may occur along the way. It's crucial that he or she is fully aware of your financial limitations throughout the planning process.
Choose the Right Catering Company
When you begin to plan your wedding, you'll likely be overwhelmed with recommendations from friends and family. Someone's uncle, cousin, or father is bound to own a catering company, and business cards will fall like rain. While it might be a great opportunity to work with some of these family-owned companies, you'll need to make sure that your final catering choice is the best one for you and your reception, no matter who owns it.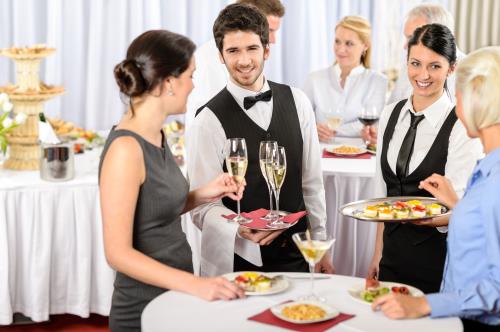 When you and your planner begin to interview caterers, pay close attention and take notes. Yes, the food has to be delicious and in line with your theme, but there are other details to consider. Can this caterer work within your budget? Does your catering budget cover the number of people who will attend your reception? Can they offer several different types of cuisine? How much does it cost to hire the servers, bartenders, and busboys? Are linens included?
A good caterer will be honest about costs and will strive to give you the menu that you want for the price that you can afford. Once you feel confident about your choice of caterers, you can step back and let your planner handle the rest.
Consider Your Menu Carefully
It's natural to want to give your guests the best while they're helping you to celebrate your special day, but you'll also want to be aware of how much you can afford. The pricey filet mignon on the surf and turf menu may sound like a great choice, but if your budget can only provide that delicious steak for half of your guests then it's a disaster in the making.
Plated meals are always a great choice for a reception, but this option can also be the most expensive. Adding a large wait staff to your catering bill can eat away at your budget in no time. If your wedding is a smaller, more intimate affair, then this could be the perfect option. However, if you're hosting more than a hundred guests you might want to consider other avenues.
Buffet-style service has evolved a great deal in recent years, and choosing this option for your reception could leave you pleasantly surprised. Many chefs are eager to elevate different foods and showcase them in a new light. Plus, you'll be able to choose a few different varieties of food for your buffet menu, which will please your more finicky guests, especially children who may be in attendance.
And last but certainly not least, family-style catering is a choice that combines the best aspects of several different service styles. You'll meet with the caterer and decide on a menu that features several food choices, from appetizers to dessert. Your guests will sit at their assigned tables, and servers will be able to offer the food right away. Gone is the need for time-consuming menu ordering and lines at the buffet station. Family style allows you and your guests to enjoy a more intimate, less hectic dining experience, and this choice can be a money-saving one, as well.
Choosing the right caterer and menu for your reception can feel a bit trying, but if you're true to your budget and are willing to think outside the box, you can find yourself with a fantastic spread for your big day. Now all that's left is to eat, drink, and be married!