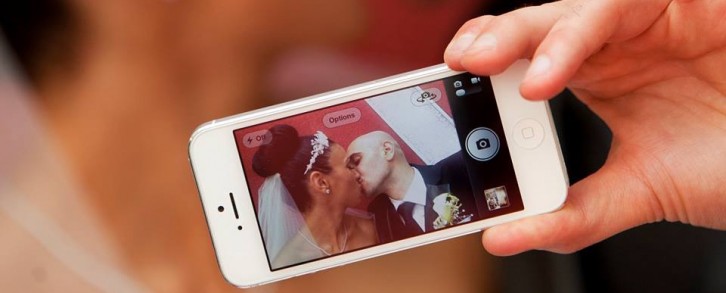 —by Vrej Sarkissian, CEO of LA Banquets—
The newest wedding trend has nothing to do with flowers, dresses or decor. Not even food, or going green. Brides and grooms now increasingly want "unplugged weddings." At the unplugged wedding, guests are asked to put away their phones and cameras during the wedding ceremony, and often during the reception. Some couples even enforce the "no tech" rule by confiscating phones before the ceremony begins.
This trend is already common practice at high-profile weddings, where celebrities don't want images leaking out to the media, which either destroy their illusions of privacy, or void the cash payouts they stand to rake in by selling the photos themselves. For the rest of us, unplugged weddings are a reaction to another prevailing trend: experiencing life exclusively through the smartphone screen. But unless your name graces the covers of the weekly tabloids, your guests may think you think too highly of yourself if you're asking them to surrender their phones and cameras.
If you're unsure about an unplugged wedding, consider the following before printing up "no phones" notices in your wedding day programs.
The "Screen" Life isn't as Sweet
There's an argument to be made for putting away phones to truly be present in the moment. Yes, all too often we're distracted by our phones, Instagramming and live Tweeting every instant of a new experience. But a draconian decree may leave your guests so indignant they'll only be thinking about when they'll get their phones back, instead of freeing them to contemplate the beauty of your marriage. (Hopefully no guests have to be asked to turn off the ringer for the duration of the ceremony.)
Your Guests are Stepping on Your Photographer's Toes
Wedding photographers, however are thrilled "unplugged weddings" are catching on. As one photographer thoroughly explains, your well-meaning uncle standing in the aisle trying to capture the "I dos" on his iPhone (or iPad!) may ruin your professional photographer's shot. And when you consider how much you're paying for those professional photos, you want to do everything you can to make sure your photographer gets the shots you want.
A More Intimate Look
Embracing and incorporating technology in your ceremony and reception though can give you a more complete story of what happened at your wedding. Looking through each guest's particular photos and social media status updates opens an entirely new perspective of your wedding experience. By creating a unique (and clever) hashtag for your wedding, your guests can create an instant digital scrapbook you and your family can enjoy the next day. You'll miss out on this if everyone's phones are tucked safely away.
Like all trends, it's up to you to decide whether to you wish to follow suit, tweak it to your own tastes, or ignore it completely. Whatever you choose, hopefully it won't be a decision you regret when you're looking at your professional pictures fifteen years from now.
__
Photo via Sakosan Photography.