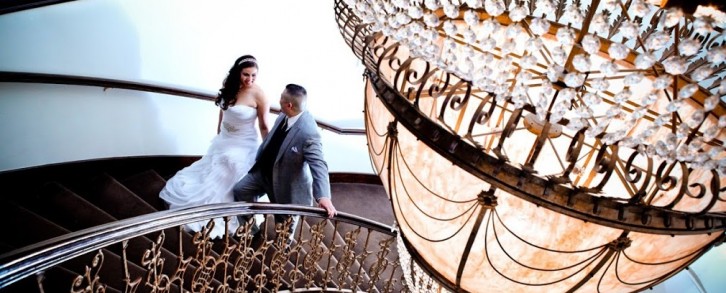 Since at least Victorian times of the 1800s, it's been traditional for Western brides to incorporate four tokens of good luck into their wedding attire: something old, something new, something borrowed, and something blue. You've heard the rhyme since childhood but probably didn't know the reason for any of it. The tradition is still widely practiced here in Los Angeles, no matter how modern the rest of the wedding. Once you've chosen your beautiful wedding venue and start planning your big day, you'll probably feel like you need all the luck you can get. Read on to learn the history of this good luck tradition and a variety of ways to spin it.
Something Old
This is a symbol of continuity and a beautiful representation of the link you have with the generations that have preceded you. Perfect examples are an heirloom veil, your mother's pearls, a cherished piece of jewelry that belonged to your grandmother, or even something that's been handed down in your husband-to-be's family.
Wearing it provides you with a connection to the people who came before you and contributed not only to the family you belong to today but also to the one you're going to create with your marriage.
Sentiment aside, if your "something old" doesn't go with your dress, you can still carry it. A brooch can be pinned to the ribbon wrapping your bouquet, or the bouquet itself can be wrapped with a piece of vintage lace or an heirloom handkerchief. The item needn't be from a female member of the family, either. Your great-grandfather's stick pin or a military medal can replace or even be pinned next to that antique brooch. And if that won't work, you can have whatever item it is basted onto the inside of your dress at the hem; no one needs to know it's there but you.
Another way to hold a family remembrance close is to wear a locket with a cherished photo in it; and again, if you'd rather not wear it around your neck, you can pin it to your bouquet's ribbon or inside your dress near your heart.
Something New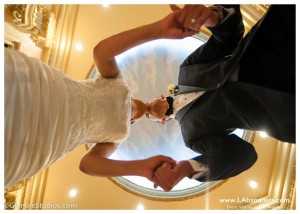 This represents optimism for a bright future, and many brides consider that their wedding dresses themselves are the something new. Even if your dress is vintage, you'll surely have new shoes or some other bit of attire that's new for the occasion. Your wedding ring, for example. When you think about it, though, you really don't need a "something new" token to express hopes for a bright future. The very act of getting married says it all right there!
Something Borrowed
This symbolizes borrowed happiness and the notion that friends and family will be there to support your new marriage. Traditionally, the idea is to borrow something from someone who is happily married, to express carrying that happiness into your own new marriage.
These days, something borrowed from a single friend will do just fine. Plus it's your chance to wear a pair of earrings, for example, that you've always admired. Just remember to return it (with thanks) after the wedding to symbolize the circle of support you're offering back to the person you borrowed it from.
Something Blue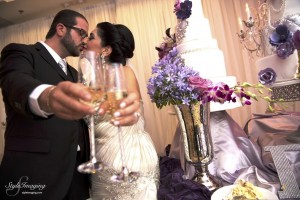 Dating much farther back than Queen Victoria's time, in fact to ancient Rome, the color blue has been a symbol of faithfulness, purity, and loyalty. It's also been known as a symbol of the Virgin Mary. Blue is the color of the sky and a clear mountain lake. It's serene, calm, and overwhelmingly the favorite color of both men and women.
Whether you choose baby blue, turquoise, lapis, sapphire, azure, or cobalt, you can incorporate the color into your wedding with a blue garter, a blue flower, one blue bead tucked among the others decorating your belt, or a tiny bow of blue satin ribbon sewn inside your dress. Some brides today are even wearing pale blue wedding gowns, and many are wearing blue shoes.
And Finally
After advising something old, something new, something borrowed, and something blue, the old English rhyme concludes with "and a silver sixpence in her shoe." While American brides don't usually follow this tradition, it's a nice, authentic touch. The sixpence, a small silver coin first minted in 1551 and part of English currency until about fifty years ago, was included in the symbolic list as a token of good fortune and prosperity. It might be uncomfortable in your shoe, though, so if you can find an old sixpence — or would rather substitute one of our own shiny pennies — let your groom slip it into his pocket.
Regardless of whether or not you decide to include any or all of these charming good luck symbols, we wish you a beautiful wedding day and a long and happy marriage!