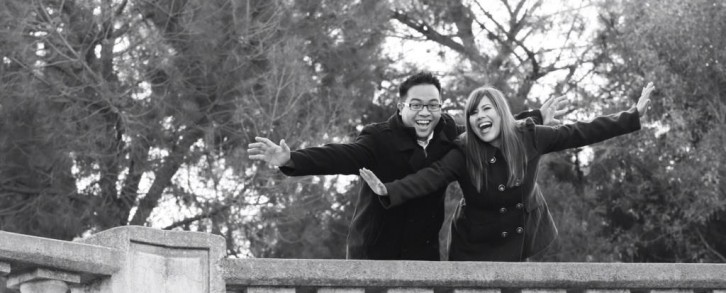 Lights, camera…engaged! When Aris decided to propose to Gina, he wanted to forgo the intimate and quiet tradition of asking over a candlelit dinner. Instead, he began planning a romantic and humorous cinematic endeavor.
The couple met in 2010 through mutual acquaintances. Aris's friends worked at a local private high school where Gina also taught. Once Aris and Gina met, they started dating and Aris knew she was "The One." (Fun fact: Gina's mom was Aris' Spanish teacher in high school!)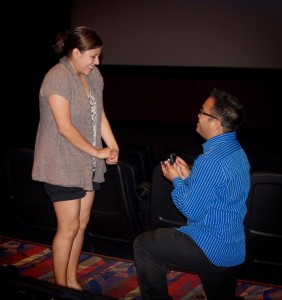 Aris enlisted the help of family and friends, in addition to the staff at Maya Cinemas in Bakersfield, their favorite destination for Date Night. A month prior to the big night, Aris asked Gina's parents for permission (which they happily granted), and they started filming the 10-minute proposal video. Gina's best friend set up a "fake girls night" at the theater with faux movie vouchers that she'd allegedly won in an office contest. Aris rented out the entire theater and stealthily arranged for some of the employees to sit behind the girls. As the movie played, a friend captured Gina's reaction on his cell phone. Gina slowly realized what was happening as the story unfolded, a mixture of montages and a throwback to "The Wedding Singer," their favorite film.
She happily said yes and they embraced as the theater burst into applause.
Congratulation to Aris and Gina from everyone at LA Banquets!