When you're planning your wedding reception, sometimes it can seem as if deciding on the theme is the most difficult part. With so many options to choose from, it can feel daunting; you need to choose a theme that reflects you and your personal style without becoming too kitschy or overdone.
Borrowing styles and ideas from Hollywood films is a great way to evoke the glamorous feeling of different periods in moviemaking history. Since you have the advantage of living in Los Angeles, the movie capital of the world, gathering the props and decorations to pull off a Hollywood-themed reception is much easier than it would be elsewhere.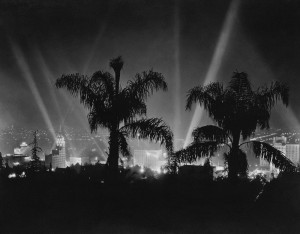 When you meet with your planner, discuss your ideas with him or her and ask questions. A good Los Angeles wedding planner should have contacts with many of the businesses that specialize in props for film and television shows, which will make your vision come to life in a spectacular way.
Here are some great glam wedding reception ideas that can help you turn your reception into an Oscar-winning performance.
The 1920s and "The Great Gatsby"
The 1920s have always been an era that people look back on fondly. Chances are if you've been to a costume party recently you've found yourself faced with a 1920s theme. Thanks to last year's release of Baz Luhrmann's "The Great Gatsby," 1920s style is more popular than ever.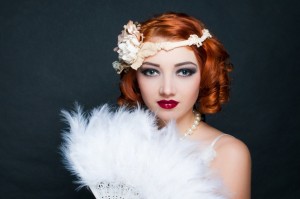 If you're in the mood for an over-the-top reception, you could throw a full-fledged costume party. Ask your guests to come decked out in their best flapper attire, serve champagne in vintage coupes or saucers, offer a cigar bar for the gentlemen, and hire a jazz band to play ragtime classics from the period. The decadence of the 1920s will shine through and make your guests feel as if they've been transported to the Prohibition era.
If you'd rather keep the 1920s theme subtle for your reception, there are plenty of art deco touches that are understated yet elegant. Choose stylish linens in black and white for the tables. Ask your caterer to set the tables in heavy, classic silver utensils coupled with a stylish plate in white. Ask your florist to use large blooms such as peonies and to add ostrich or peacock feathers to the arrangements. Keep the lighting subtle to really evoke the speakeasy mood.
"Casablanca" and the 1940s
T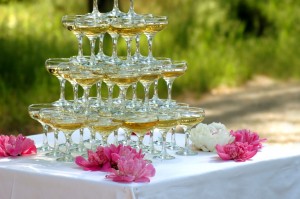 he 1940s were an interesting time in the United States. Half of the decade was spent at war, yet some of the most classic American films were released during that decade. "Casablanca," "Citizen Kane," and "It's a Wonderful Life" were released during the 1940s, and these films remain some of the best-loved classics. The style of the time was classic and elegant, and all of these themes are perfect for a wedding reception.
Borrowing ideas from "Casablanca" is a great way to style your vintage-themed reception. Evoke a sultry, Middle Eastern/North African feel with linens and draperies in bright jewel tones, and ask your planner to find some Moroccan-style lanterns for the tables. Use vintage postcards on the tables to guide your guests to their seats, and consider setting up a hookah lounge outside.
Just a few simple touches, which may include a Panama hat or two, can make you and your guests feel as if they're having a drink at Rick's Cafe and that Humphrey Bogart and Lauren Bacall will walk through the door at any moment.
1960s "Mad Men" Style
The 1960s were a time of duality in America. There was a holdover of the style from the 1950s combined with the emergence of counterculture hedonism later in the decade. If you're a fan of the classic style of the earlier part of the 1960s, think "Mad Men" for your wedding reception style.
A martini bar is a must and creates a chic cocktail party feel that your guests will love. Decorate with period props such as vintage typewriters that your guests can use to write well wishes to the happy couple. Roses and baby's breath were very popular at the time, so be sure to tell your florist that you've been inspired by "Mad Men" and would like your flower arrangements to align with that theme.
You can apply the 1960s theme to your menu as well. Dishes like chateaubriand and beef Wellington were popular at the time, and are certainly decadent enough for an elegant reception. Be sure that your band or DJ is well versed in the music of the time, and have a dance floor that encourages your guests to take part.
If you're inspired by a bygone Hollywood era, it's quite simple to apply that theme to your wedding reception. With carefully chosen props, decorations, and flowers, your reception venue can be whisked back in time to another decade. Outline your plans carefully with your wedding planner, then watch your old Hollywood reception come to life.