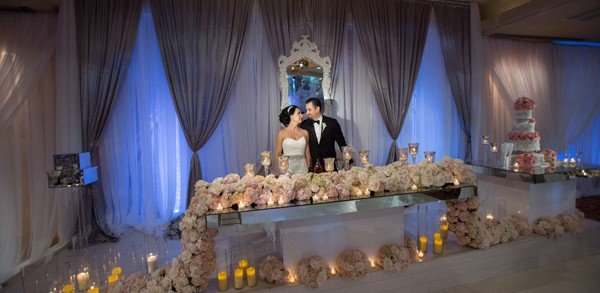 After planning and coordinating stunning weddings for other happy couples, it should come as no surprise that Mrs. Rubina Zargaryan of Memorable Moments, LLC. was beyond excited to take a shot at her own special day. She and her husband Raffi finally said their vows on October 25 at Le Foyer Ballroom, one of L.A. Banquet's seven wedding venues in Los Angeles. With a ceremony that was steeped in rich Armenian traditions, this wedding unfolded into an event that all attendees will remember for the rest of their lives.
The Couple
Rubina and Raffi met at Woodbury University where they were both working toward their MBAs. After three years of being with one another, the happy couple decided that they wanted to take a long walk through the campus and look back at how far their relationship had come. Little did Rubina know, Raffi had other plans. Raffi set the scene with flowers and candles and asked for Rubina's hand in marriage. It was at this point that Rubina realized she was going to be a bride herself and get a fresh look at the wedding planning process.
Time to Get Planning
In addition to basic wedding planning tasks such as trying on dresses and finding the perfect wedding venue in Los Angeles, Rubina also wanted to inject some of their Armenian culture and traditions into the special day. The first thing that the couple needed to decide on was the inspiration for their wedding. They ended up choosing ivory, gray, and blush pink as their primary colors with a good amount of lace incorporated into the dress and the decorations.
When it came time to choose a wedding venue, the couple decided on the Le Foyer Ballroom. Located in North Hollywood, this glamorous ballroom perfectly matched the blend of chic and elegant that the couple was looking for. It is also one of the larger banquet halls with enough room to comfortably fit 550 guests in an atmosphere that is unlike anything else in the area.
With the color scheme, theme, and venue chosen, the couple was able to focus on the personal touches that would make their wedding stand out. As a wedding planner, Rubina knew exactly which vendors she enjoyed working with and was able to bypass some of the stress that other couples feel when they tackle these events on their own. Now that all of the minor details had been arranged and everything was in order, all that was left was the big day.
The Day of the Wedding
Just as the happy couple had planned, the day of the wedding was a blur of family, friends, and unforgettable Armenian traditions. It all started early in the afternoon when the groom's family arrived at the bride's home to ask her family for permission. Once these traditions were out of the way, it was time for both families to get ready for the wedding and the following ceremony.
See more pictures of Rubina and Raffi's Wedding Here!
Happily Ever After
This experience gave Rubina a unique perspective on the wedding planning process and some insight on exactly what couples go through before, during, and after their big day. While planning her own wedding was no doubt an experience unlike anything else in the world, Rubina rose to the challenge as every piece fell into place. Raffi's and Rubina's wedding was the perfect start to a long and joyous marriage.