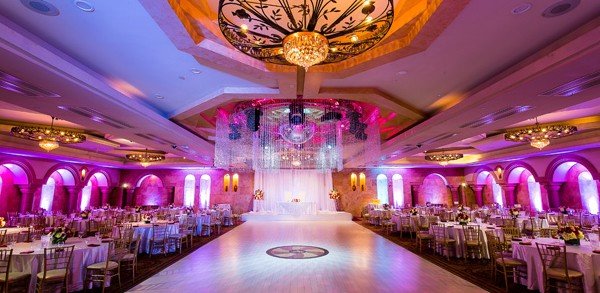 Just because you have a strict budget doesn't mean that a luxurious wedding is out of your reach. With a little extra preparation, it is not too difficult to stretch every dollar without making sacrifices.
The first thing that couples will need to do is decide exactly what a luxury wedding means to them. Some might want a large venue that will fit their extended family while others want a quiet ceremony that focuses on the smaller details. Read ahead for a look at 101 tips that will help you create an unforgettable event without breaking the bank.
1. Start in the Off-Season
Couples can save quite a bit of money by having their wedding in January, February, or March.
2. Book Transportation Early
Transportation options such as party vans can often be booked over a year in advance and offer discounts for early booking.

3. Cut the Photographers Early
Everyone will want to have pictures to preserve their special day, but having a slew of photographers taking pictures of the last few guests is generally an unnecessary expense.

4. Skip the Videographer
Have a close family member shoot the most memorable segments of your wedding and skip the full-time videographer.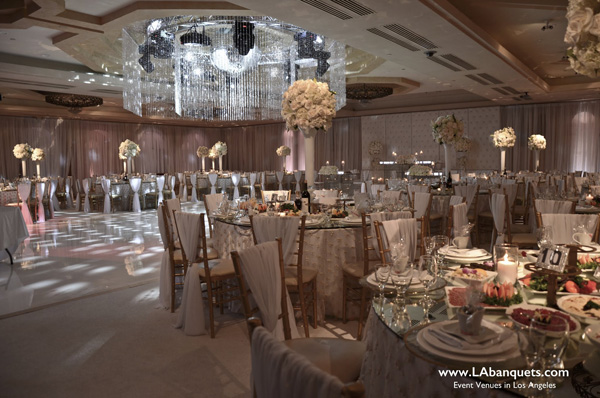 5. Focus on a Prominent Color Scheme
Prominent colors can be used throughout the wedding and will help you avoid additional flower arrangements or enlarged photos.
6. Schedule the Wedding Just After a Major Holiday
Planning a wedding a few days after a major holiday could help your guests save some extra money since they might already be off of work.
7. Enjoy a Cocktail Reception
Having hors d'oeuvres served by well-dressed butlers is a great alternative to long buffet lines that can cost hundreds per guest.

8. "Formalize" the Waitstaff
Items such as a pair of white gloves can be purchased for just a few cents and will add a sense of elegance to any occasion.
9. Include Lounge Furniture
An affordable set of lounge furniture will make your guests feel pampered and well taken care of.

10. Find a Venue That Is Already Lavish
Instead of trying to reinvent the wheel, go with a luxury wedding venue that already has all of the amenities that you will need to create a memorable event.
11. Use Natural and Affordable Elements
Options such as polished stones can be much less expensive than thousands of fresh flowers for every vase and centerpiece.
12. Drape the Entryway
A draped entryway will set the tone for the rest of the wedding and help you build your color scheme right from the start.
13. Upgrade to Pintuck Linens
Pintuck linens are not only eye-catching, but they are incredibly affordable when purchased in bulk.

14. Get the Wedding Dress Early
Much like the wedding vendors, dresses are often much more affordable when purchased in the off-season.

15. Use Younger Talent for the Music
Instead of using an expensive classical ensemble, contact your local college to inquire about string quartets.
16. Always Negotiate With Your DJ
Many DJs quote exorbitant prices for their services knowing that their clients will come back with a counteroffer.

17. Make the Most of Your Invites
Consider printing additional information on the back of your invitations so that you can halve the amount of paper that is needed.

18. Make the Most of Scents
A luxury wedding should stimulate all of one's sense including smells from delicately scented candles.
19. Skip the White Napkins
Vibrant napkins are another excellent options for improving the décor at little or no cost to you.
20. Give the Napkins Another Purpose
A few extra minutes spent folding the napkins will allow you to use them as an eye-catching pocket for other items on the table such as the menu.
21. Get Oversized Table Linens
Table linens that pool at the floor will give the event a much more opulent appearance.
22. Table Runners
If oversized table linens are not the best option, then try to dress up each table with a simple cloth runner.

23. Rent Napkin Rings
Napkin rings can be rented (or purchased) for as little as a dollar each and will add a sense of style to an otherwise bland table setting.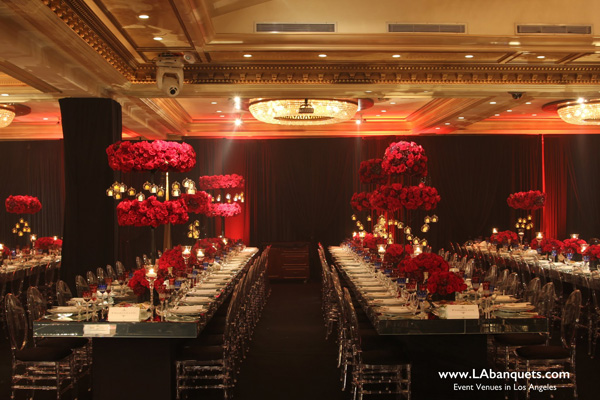 24. Skip the Circular Tables
Longer bench tables are a great way to have your dinner or cocktail hour standout and are almost identical in price to circular tables.
25. Use More Candles
Candles are one of the most cost-effective options for creating a luxurious environment no matter the motif.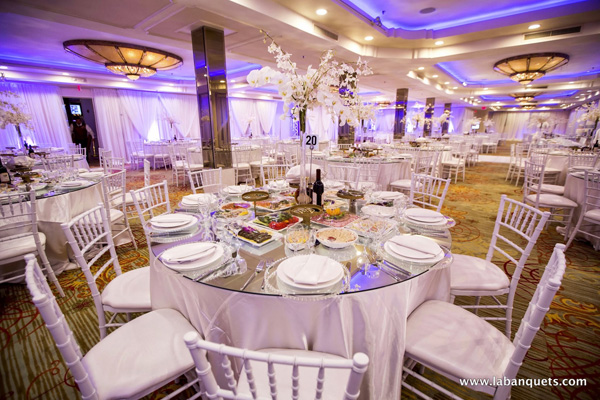 26. Go With Textured Chargers
Placing textured charges under the plates is a great way to spruce up bland tableware.
27. Wrap the Flower Arrangements
Try wrapping more affordable flower arrangements in fabric or paper to improve their look.

28. Use Frosted Glass
Frosted glass tabletops are a great way to avoid expensive table linen rentals.
29. Keep the Centerpieces Simple
A chic centerpiece needs to be nothing more than a clear vase, water, and a few floating candles.
30. Color the Water or Glass
Try using colored water or glass to add even more flare to your floating candles.

31. Don't Make the Centerpieces Uniform
Centerpieces that are of different heights will add more dimension your reception.
32. Find Alternative Desserts
An alternative dessert cart such as a lavish brownie tower is much more affordable than a multi-tier cake.
33. Skip the White Fondant
If you have decided on a cake, then consider a quick spray with a bright silver or soft gold to improve its appearance.
34. A Cupcake Tower
Cupcakes can be designed to perfectly match the appearance and taste of the primary wedding cake.
35. Personalize the Handouts
Handouts can quickly and easily be personalized with the guest's first or last name.
36. Display Your Favorite Foods Elegantly
Using glassware that has a uniform height and color will improve the appearance of non-traditional wedding foods such as chips.
37. To-Go Bags
Create personalized bags for each guest with their name and a few extra snacks.
38. A Coffee Bar
End the night with a coffee bar filled with unique creams and candy canes to place inside.

39. Have a Healthy Dessert
Fresh fruit drizzled with a little chocolate is an affordable (and healthy) alternative to expense cakes, pies, and other desserts.

40. Ask Your Florist for Extra Petals and Flowers
Most florists will sell extra petals and flowers for a nominal fee. These can be used to decorate everything from the tables to the cake.

41. Have a Beer and Wine Bar
An open bar with liquor is unnecessary for many couples and can cost thousands extra.
42. Create a Signature Cocktail
Couples that would like to have at least some hard liquor should create a signature drink from affordable liquor.
43. Dress Up the Water
Something as inconspicuous as a slice of lemon or lime will make each glass of water much more eye-catching.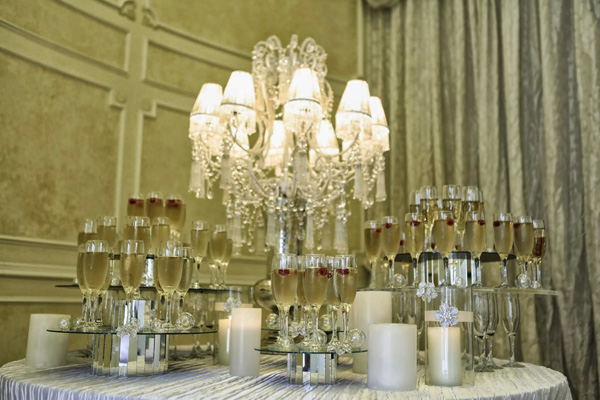 44. Dress Up the Alcohol
Just as with the water, alcohol can often be dressed up with a single strawberry or slice of orange.
45. Consider a Vintage Signature Cocktail
Signature cocktails such as a Manhattan will give your wedding a unique and sophisticated vibe.
46. Present Your Champagne
Instead of simply handing out glasses of champagne, couples can easily create a champagne tower as an elegant centerpiece.
47. Use Edible Herbs and Flowers
Edible flowers such as squash blossoms are another simple and affordable way to dress up the dishes.
48. Skip the Final Course
Instead of having a fourth or even a fifth course, many venues will offer a price reduction for a three-course meal.
49. Choose an Ethnic Cuisine
Ethnic cuisines such as Greek or Indian are often much more affordable than traditional steak and chicken dishes.
50. Use Natural Foliage
Much like the squash blossoms, local foliage is a simple way to dress up a venue and give the event a personalized touch.
51. Don't Stop at Leaves
Couples that decide to use leaves should consider all that the nearby landscape has to offer including local plants, twigs, and polished stones.

52. Ask About Unique Food Presentations
Many chefs and catering companies will provide unique food presentations such as "shots" of soup at no additional charge.
53. Choose Eye-Catching Foods for the Appetizers
If butlers will be passing out your appetizers, then you might want to skip the toothpick-skewered edibles for your luxury wedding.
54. Use a Solo Musician
A solo musician such as a classical guitarist or pianist can save a couple thousands of dollars when compared to larger ensembles.
55. Ask the Musician About DJ Work
Many musicians also DJ at a reduced cost when they are hired for the entire night.
56. Accompany the DJ
Adding a single live musician to the DJ's services will spruce up many of the generic songs that are heard at weddings.
57. Invest in Professional Stationary
Investing in professional stationary and then printing on that stationary at home is a simple way to save hundreds of dollars.
58. Skip the Personalized Calligraphy
Many local printing companies can perfectly match the "custom" writing performed by a professional calligraphist.
59. Forgo White Invitations
Your invitations will set the tone for your wedding, so you should try to forgo the generic white or cream stationary.
60. Sign Your Invites
Signing your own invites or adding some handwritten information will take some time, but it will also make your guests feel like VIPs.
61. Don't Underestimate Faux Crystals
Faux crystals will add a dash of elegance to items such as your invites.

62. Glass Beads
For those that want to save even more money, glass beads can often be purchased for just pennies and are nearly identical to faux crystals.

63. Tented Guest Cards Aren't Always Necessary
Flat cards can be used as an alternative to tented cards that often take hours to make.
64. Ask About Unique Menus
Many venues and caterers will provide beautiful menus for each guest at little or no charge.
65. Spell Out All of the Numbers
It might not seem like a big change, but spelling out all of the numbers can have a major impact on the overall motif of a wedding.
66. Get Inventive With the Escort Cards
Escort cards can be hung from a string or tied to a flower for a one-of-a-kind look.
67. Use More Metal
Metal vases and placeholders are an affordable way to add more color and texture to a wedding without increasing the costs.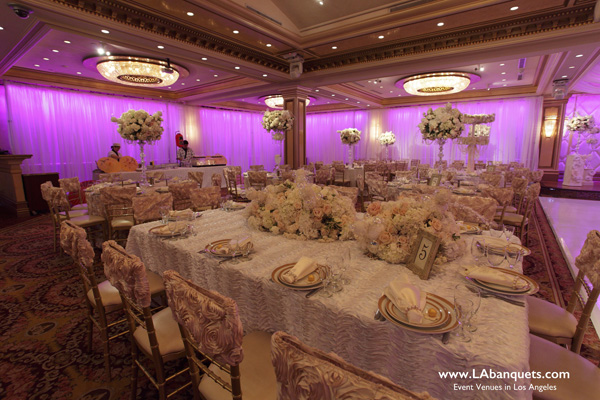 68. Add Ribbon to Everything
Ribbons can be used to improve the appearance of everything from the glasses to the tableware.
69. Upgrade the Chairs
There are few things that will affect the overall feel and layout of a wedding as much as second-rate rental chairs.
70. Add Pin Spotlights
Pin spotlights give you lighting exactly where you need it without glaring overhead fixtures.
71. Keep the Clothing Simple
Doing away with a few extra accessories such as a veil or cufflinks could potentially save you thousands of dollars.
72. Think About Used Accessories
You might want a new wedding dress or suit tailored to fit you perfectly, but what other pieces of clothing or jewelry can you purchase used?
73. Consider a Friday Ceremony
Saturday ceremonies are the most popular, and this means that they are also the most expensive.
74. DIY Flower Arrangements
Even if you want a professional florist to create the main centerpieces or bouquet, you might want to cut your own flowers for the decorations in the entryway or along the wall.
75. Skip the Extra Parties
Extra events such as the post-wedding brunch can quickly add up to thousands of dollars.
76. Have the Shower at Home
By having your bridal shower at home, you will have that much more to spend on the ceremony.
77. Place Mirrors Around the Expensive Items
Placing a mirror near the larger arrangements and centerpieces will give them maximum visibility.
78. Have the Rehearsal Dinner at Home
Much like the bridal shower, a rehearsal dinner in your own backyard will give your entire event a personalized touch.
79. Start the Wedding Late
More venues than ever now offer later time slots at a reduced price.
80. Start the Wedding Early
If a late wedding isn't an option, then you might want to consider an earlier afternoon wedding with tea and hors d'oeuvres.
81. Specify Your Reception Foods
Telling your guests ahead of time that the reception will only have drinks and desserts will result in fewer rumbling stomachs.
82. Have Family Dishes
Larger family dishes are a great alternative to pre-made dishes and will fill up your guest with all the same amazing foods.
83. Used Potted Plants Instead of Blooms
Many local nurseries offer potted plants at just a fraction of the cost of bloomed flower arrangements.
84. Cluster the Vases
Groups of similar flowers can be clustered together for additional dimensions on every table.
85. Fruit Arrangements
Vibrant fruits such as green apples and grapefruit will give your guests something to look at and eat.
86. Avoid Flower-Based Holidays
Holidays such as Valentine's Day and Easter could increase your floral arrangement costs by hundreds or even thousands of dollars.
87. Inquire About Local Foods and Beverages
Local gardens, farms, breweries, and vineyards often sell their products at a major discount to local events.

88. Close the Full Bar Early
Couples who feel like they must have certain liquors or wines should consider cutting these items off early.
89. Eliminate Shots
For most couples, having shots at the bar is an unnecessary and expensive upgrade.
90. Skip the Colored Ink
With colorful invitations and menus, expensive colored ink is one more expensive you can cut back on.
91. Assemble Your Own Invites
Make dinner for a few family members or friends and assemble your own invites after they have been printed.
92. Ask for a Discount on Thank You Notes
Many printers offer a bulk discount when thank you notes are purchased at the same time as invitations.
93. Think Like a Guest
From the moment that they arrive at the venue to the last song of the night, try to put yourself in the shoes of a guest and consider what will be luxurious in their eyes.
94. Skip the Limo
White limos are notoriously expensive and often cost hundreds more than a classic luxury vehicle.
95. Order Proofs Later
Many photographers allow you to spend your gift money on the proofs well after the event.
96. Have Your Guests Served
Studies have shown us that guests who serve themselves generally eat around 40 percent more than those who are served.
97. Upgrade the Salad Course
Upgrading the salad course with in-season fruits and an eye-catching arrangement will allow you to cut costs on the main course.
98. Use a Catering Company That Offers Meals for Kids
If a lot of children will be at the wedding, find a caterer who offers discounted plates for children.
99. Replace Fish With Pork
Pork is often just a fraction of the price of expensive seafood options such as shrimp and scallops.
100. Buy Non-Wedding Dresses
White dresses that are not specifically designed for weddings are generally much more affordable.
101. Let Others Help!
Finally, don't be afraid to let others help. Allow friends and family members to chip in with their time, expertise, and finances.