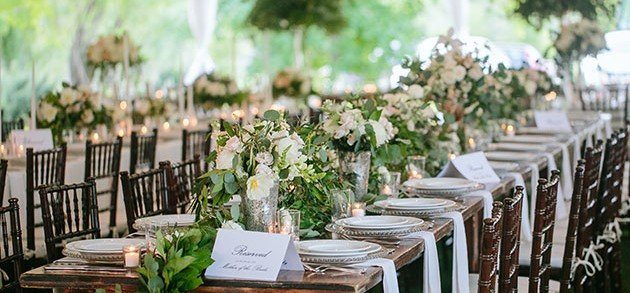 The elegant wedding venues and expert wedding tips at L.A. Banquets have received a great deal of recent attention from Brides.com. As the website that complements "Brides" magazine, Brides.com reaches a wide international audience of brides and wedding planners. Expert tips and ideas for beautiful weddings are the focus of Brides.com's features, and prominent quotes from L.A. Banquets' Creative Director, Ani Keshishian, take center stage in many Brides.com articles. Don't miss these excellent pieces containing helpful, creative tricks and tips on how to plan your dream wedding! In case you missed them, here's a recap of the Brides.com 2016 posts featuring L.A. Banquets.
Magazine-Worthy Weddings
"6 Ways to Get a Magazine-Worthy Wedding" is the Brides.com feature article for March 20th written by Brides.com's Elizabeth Mitchell. The advice L.A. Banquets' Keshishian provides for brides wishing to see their dream wedding in the pages of a magazine is about developing a strong voice and theme. She emphasizes that a signature statement will create a setting that tells a story, and pictures worth a million words are what capture the attention of bridal magazines.
Fun Wedding Ideas
The fun article, "7 Things Guests Go Bananas for at Weddings," is a March 21 post with unique ideas for weddings that guests love. Photo booths, dessert trucks and on-site child care are among the excellent ideas that add something special to the wedding experience. L.A. Banquet's Creative Director, Ani Keshishian, recommends the unusual addition of a sushi station as a fun appetizer for guests and to add creative energy to the wedding menu.
Settings for Outdoor Weddings
On April 6, the topic of outdoor weddings is explored in the Brides.com's article, "How to Pick the Perfect Wedding Season for You." Mitchell covers diverse topics about considerations for outdoor weddings, including weather and outdoor activities. L.A. Banquets' Keshishian adds tips for capturing the bride's vision of the wedding and choosing an outdoor venue that will attract and appeal to the couple's most important guests and family members while also providing a beautiful, comfortable setting.
Photo-Ready Lighting
The April 11th Brides.com article, "5 Things All Instagram-Worthy Wedding Venues Have in Common," Mitchell includes a quote from Keshishian about venue lighting, which is something L.A. Banquets has particular expertise in creating. Keshishian explained how quality lighting can provide the best opportunity for photographs that receive active engagement on social media. Wedding and reception venues that offer natural lighting or mood-enhancing ambient lighting create the perfect environment for guests to capture candid photos of the wedding events.
Wedding Flowers on a Budget
For the April 19 post, "8 Ways to Get the Most Bang for Your Buck With Wedding Flowers," Mitchell highlights Keshishian's quotes about alternating roses with baby's breath as a fashionable way to decorate tables on a budget. As a clever approach by a savvy bride, a venue that is awash in white flowers – many of them inexpensive baby's breath – provides savings without sacrificing high-end elegance. Mixing high with low to accommodate the bride and groom's budget is a tip that L.A. Banquets' Keshishian shared with Brides.com.
Wedding Videographer Alternatives
Check out these "5 Unique Alternatives to the Traditional Wedding Videographer" posted April 20th on Brides.com Nowadays, video is so ubiqutious that is seems impossible that a memorable event such as a wedding would go without. Of course a traditional videographer can be hired, but there are so many ways to capture video that it makes sense to use one of these alternative methods, such as using GoPros or Instagram, in place of, or in addition to, the traditional video. You can even add the different types of footage together for a final result that shows your big day from multiple perspectives.
L.A. Banquets looks forward to a continued relationship with Brides.com and the opportunity to provide more creative wedding tips for their excellent feature articles. L.A. Banquets' spectacular wedding facilities include seven elegant banquet halls where brides and grooms have enjoyed thousands of unique, creative weddings and receptions.