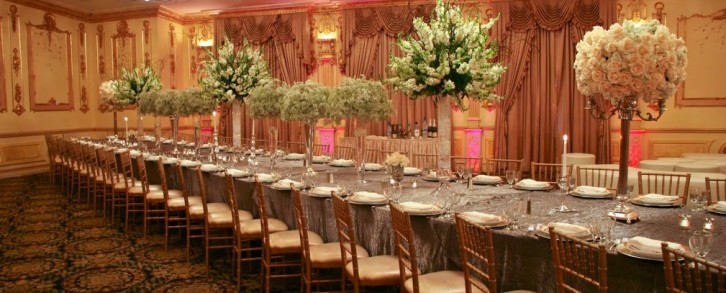 If you're looking for a wedding location in Glendale, your choice couldn't be easier. You don't have to search any further than these five exquisite venues, each with a personality of its own to lend its special magic to the wedding of your dreams. We've listed them here from largest to smallest capacity, but whether designed for more than five hundred guests or fewer than one hundred, every single one of our locations is complete with the luxury details that will make your wedding stand out.
1. Is Your Dream an Opulent Wedding With 550 Guests?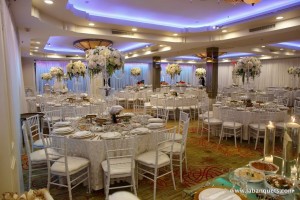 The Brandview Ballroom in downtown Glendale is the area's premier banquet hall. It offers a spacious 13,000 square feet of style and sophistication, and can more than comfortably host up to 550 guests. Located in the historic art deco-inspired Huntley-Evans building built in 1921, the ballroom been completely renovated for modern convenience but retains elegant stylistic details reminiscent of a bygone era.
Your guests will enter via an awe-inspiring spiral staircase enhanced with gold-leafed railings and boasting a two-story crystal chandelier that gives new meaning to the term grand entrance. The ballroom itself is graced with Italian onyx chandeliers, tufted walls, breathtaking floor-to-ceiling windows, and a sparkling white dance floor.
The space is completely customizable with seating and dance floor arrangements to suit your wishes, and in addition to the Brandview's stunning bar, you can designate part of the space as a luxurious cocktail lounge. Just a few steps away is the outdoor Patio at Brandview, which you may want to include in your reception as an intimate spot for your guests to enjoy conversation and hookah.
The Brandview features full audiovisual capabilities and Wi-Fi, and a beautifully outfitted suite for the bride and her party to use for dressing or touch-ups during the reception.
2. Is Your Perfect Wedding a Grand Affair With 450 Guests?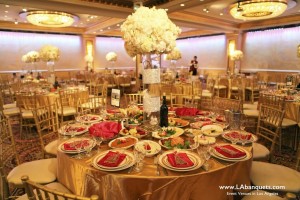 The Glenoaks Ballroom is extravagantly appointed with classic architecture, handcrafted woodwork, high ceilings, imported marble, mirrored walls, and a 60-foot crystal chandelier that will take your wedding to the next level of elegance. With 4,500 square feet to accommodate up to 450 people, this sophisticated ballroom imparts the Hollywood style of yesteryear from the moment your guests step into the red-carpeted entry.
The Glenoaks' open floor plan allows for your choice of seating options on both sides of the gleaming white dance floor, and the bridal party can take their places at the head of the room where they will be seated in front of a crystal-encrusted backdrop. The Glenoaks Ballroom also offers a generous stage for musical entertainment and toasts. If you wish, the room can be customized with an alternate dance floor and your choice of materials to drape the walls to fit your personal design scheme.
The Glenoaks Ballroom features full audiovisual capabilities, Wi-Fi, and state-of-the art lighting that can be tailored to suit the mood as your reception progresses from cocktails, through dinner, and on to dancing.
3. Are You Hoping for an Open-Air Wedding With 100 Guests?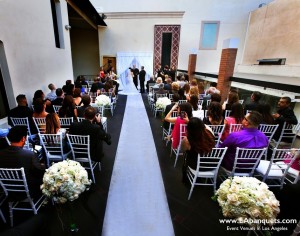 The Brandview Patio is just the spot to take advantage of our wonderful Southern California weather. This spacious open air deck accommodates up to 100 guests for a marriage ceremony and reception under the warm daytime sun or an evening's star-filled sky.
This contemporary space can be arranged to suit whatever you have in mind, and your plans can include comfortable lounge seating near the bar. The patio's fountains add soft ambiance to the background, and there's even a fire feature to keep guests cozy if the evening turns cool.
Catering at all of these distinctive Glendale locations is by Anoush and its exemplary service staff, with Anoush Signature bartenders to add special flair. All locations offer valet parking. Whichever venue you choose, you'll have at your disposal a talented and thoughtful L.A. Banquets event planner to work with you and make sure your every expectation is surpassed.