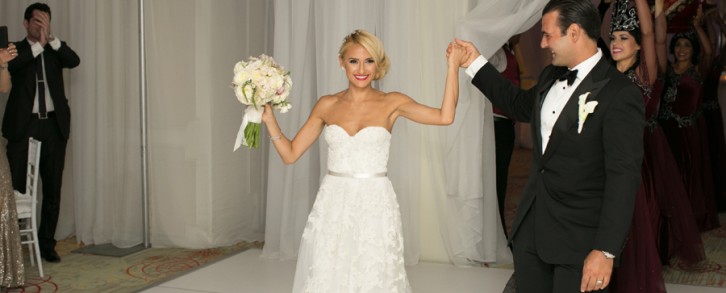 Summer wedding season is steadily approaching and lovebirds are ready to recite their nuptials amidst loved ones and warm late nights. To mark an early kickoff to our next fun filled and glamorous wedding season LA Banquets invites you to take a look back to the Summer of 2013 for Michael and Stella's fabulous soiree at the Brandview Ballroom. Throw on your party heels and your fanciest little black dress and enjoy the night just as all of their guests did. Welcome to Throwback Wedding Thursday with Michael and Stella.
A Sweet Serenade!
Stella knew that a simple glass of champagne wouldn't do. This was to be a grand occasion. Guests saw the twinkling lights from the Americana sign across the street and felt the energy even before they entered. As the valet opened the doors to the Brandview Ballroom the soothing sounds of a harpist filled their ears. A beautiful champagne tower greeted everyone upon arrival and beside it was a seven foot golden harp. Only the first of many feasts for the eyes.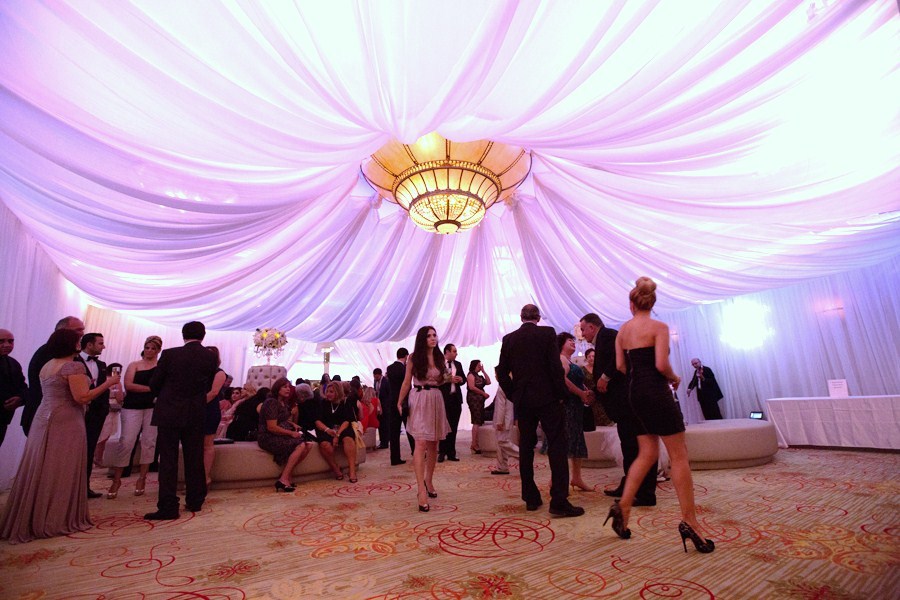 Classic Beauty!
This wasn't just any ballroom. With a place in the National Register of Historic Places the Brandview Ballroom has been a national treasure for decades. World class chandeliers were adorned with draping to accentuate their vintage style, designed in 1921 and timeless ever since. Seafood station? Why not? Candy station? Who doesn't have a sweet tooth that needs soothing? Every touch was thought of in advance by renowned wedding planner Kristine from Chic Sparkles. That the couple was planning cross country from New York didn't matter. Chic Sparkles and LA Banquets worked together to make the dream wedding a dream in reality!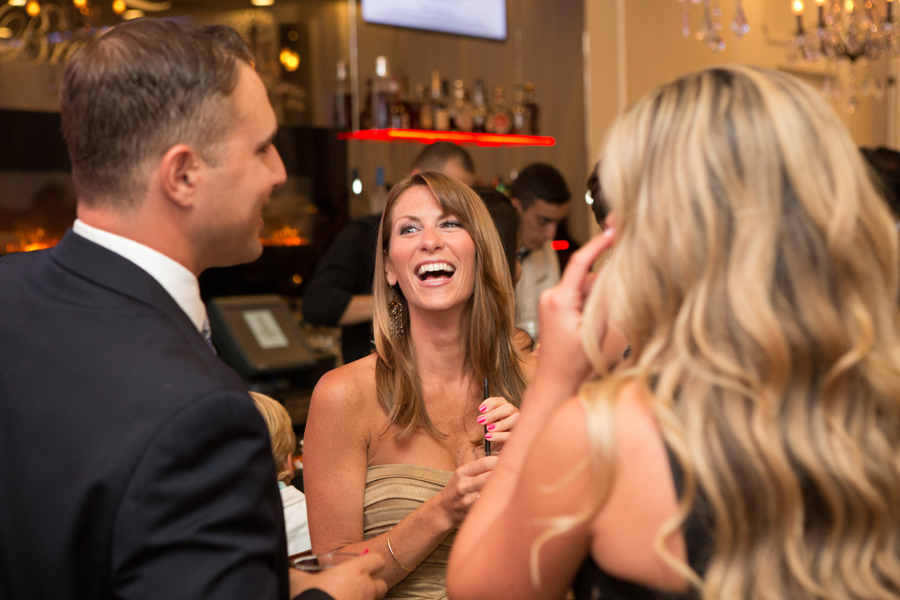 Celebrate with Bubbly and More!
Signature Cocktails were designed with the couple's theme in mind. Doting nicknames and other special moments from their years together were the drink
titles and laughter and enjoyment was had by all! Years of loving history were poured into every cocktail and guests sipped not only indoors but also in the outdoor "hookah station" on the Brandview Patio. But treats and drinks were only the start!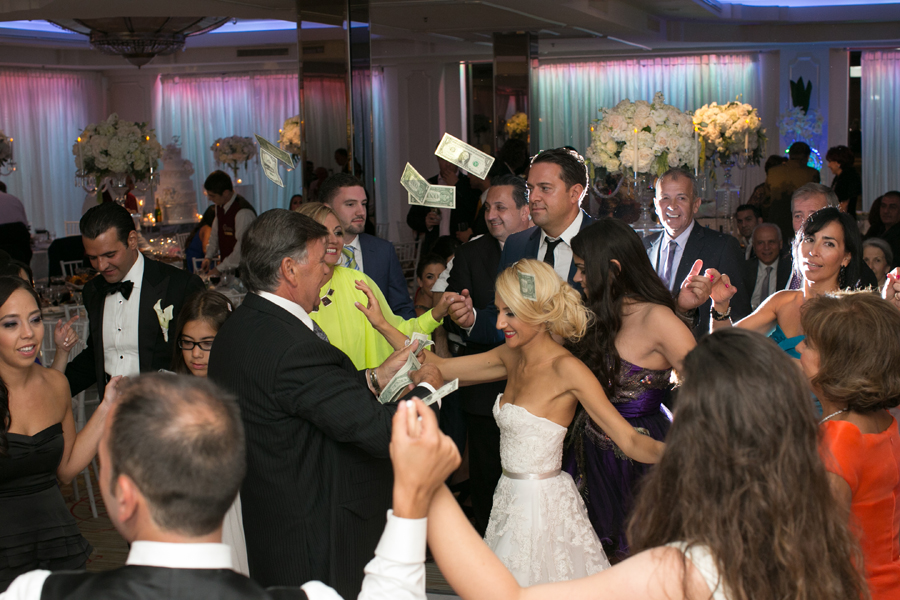 New Beginnings and New Feasts!
The melding of two families is a truly wondrous experience. Anoush Catering wowed the guests with its Signature Family Style Service! There was never a reason to stop dancing because the food kept on coming. Grilled confections, seasoned delights and 28 years of experience was a great introduction to hundreds of guests that were, for the first time, experienced award winning Anoush Catering Mediterranean cuisine.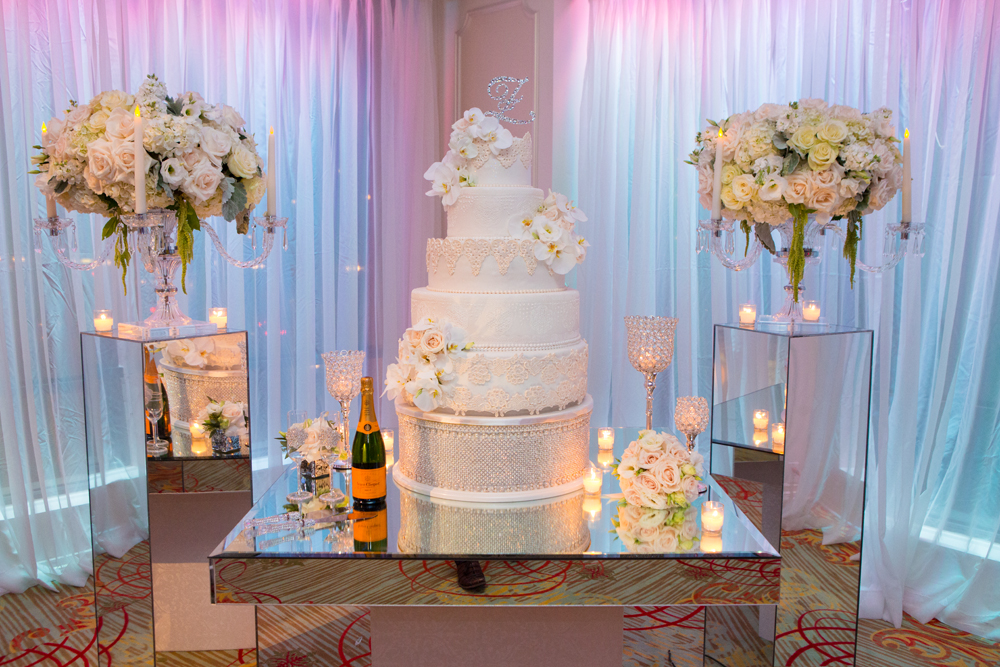 Let There Be Cake!
No wedding is complete without a fabulous cake to complement the night! One tier? Of course not. Three? Not enough. Art's Bakery crafted a six-tier confection that shimmered the evening through. Candles added a pop that could only be described as perfection. An "L" for love was the only way to top the flowers that rained down the cakes sides. And glass columns and cake stand reflected the love that shined through the happy couples eyes. Every detail carried the special touch of years of devotion and care.
Magical Indeed!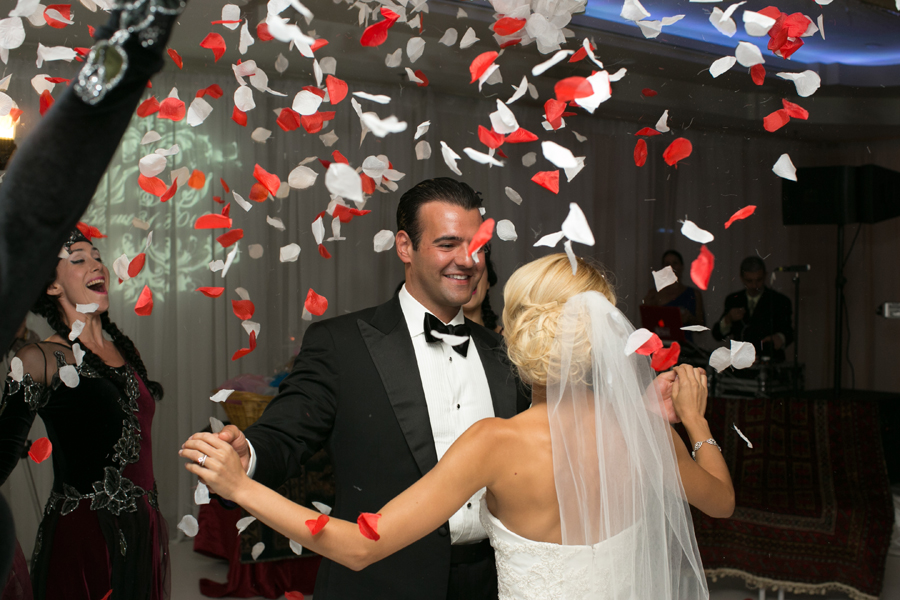 Thank you for taking the journey back with us for Michael and Stella's fabulous
affair! We can't wait for more weddings from every season!!!!