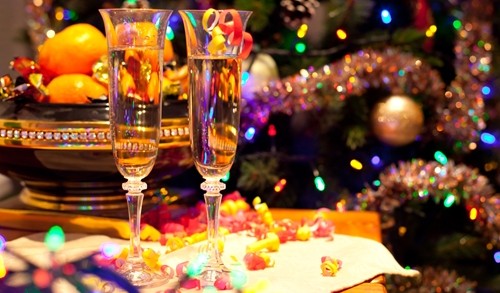 The holidays bring certain inevitable joys – scrumptious desserts, unattractive sweaters, time with family, and creamy eggy drinks. But with the holiday merriment also comes added stresses – shopping, travel plans, and crowded parking lots. Add party planning into the mix and you've got a recipe for an impending migraine.
If you've offered to host a holiday party, you're probably running through the mental tally of tasks and feeling overwhelmed. But if you take time to properly plan ahead and get organized, your anxiety will fade away and you can truly enjoy your festive gathering. Here's how to tackle your To-Do list so you can savor playing the party host and still mingle with your guests.
1) Simple – Make a list.
As the saying goes, you can never be too prepared. Start planning several weeks in advance. Create a timeline and make 3 master lists (for guests, menus, and shopping). Send out invites a month before the party and request RSVPs no later than 2 weeks prior. Once you've confirmed the guest list, plan the food and drink menus accordingly. 1 week before, think about music and decorate. 3 days prior, do your food and alcohol shopping. The day before, rearrange furniture and get the cleaning done.
2) Tune in to the music.
Though the music will be in the background behind all of the guest chatter, it sets the mood for your party. Do you want upbeat holiday songs? Blues? Jazz? Soft rock? Make your playlist a week before the festivities. Even better, let your guests request their favorite song when they RSVP so the night's soundtrack will be comprised of everyone's favorite tunes! Remember to keep the volume at a reasonable level so no one has to shout to hear one another.
3) Deck the halls with your decorations.
Don't feel like you have to cover your house in silver wrapping paper. A few sparkly touches scattered throughout will "holi-dize" your space. Candles or twinkling lights will make the room feel cozy and comfortable. Feel free to bring some outdoor elements inside – think about using branches, flowers, pinecones and wreaths. Or bring out your tree ornaments and arrange them in bowls, by color. Be sure to focus on the areas where guests will be gathering (and don't forget to include the entryway, kitchen and bathroom).
4) Keep the drinks simple.
When guests arrive, they're typically ready for a snack and drink right away. Avoid having a backup at the bar with pre-mixed batches of spiked punch or a fun signature party drink. Here's a chance to get creative! Try a Raspberry Wine Zinger or Cranberry Key-Lime Punch. Also, don't feel pressure to have a long list of specialty cocktails. Just make sure to stock the essential alcohol and mixers (i.e. vodka, rum, whiskey, wine, bubbly, juices, and sodas), and everyone is sure to be happy.
5) Bite-size is best.
When planning your food menu, keep in the mind that guests are probably going to eat while standing up, or sitting and conversing. Messy, difficult to handle foods are not ideal, so stick with easy to grab little bites. For snacks, think cheese, crackers, fruit, meats and veggie trays with dip. Or try a "meze" platter with hummus, feta, olives, roasted red peppers and pita wedges. For heartier bites, consider prosciutto-wrapped dates, spicy meatballs, dumplings, mini bruschetta, cheese-stuffed mushrooms, or flatbread pizzas.
6) Relax and enjoy it.
While it's probably both the most difficult and important thing to do, you have to remember to enjoy yourself! Don't get caught up in the trivial details during the soiree, like if someone didn't use a coaster or left a pile of napkins in the corner. You'll clean up later. The whole point of having a party is to converse and bond with your guests, so dwelling on nonessential details would be counterproductive!