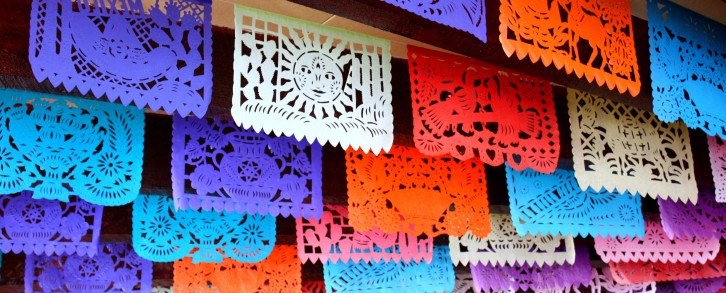 by Vrej Sarkissian, CEO of L.A. Banquets
Imagine getting married on the sandy shores of Puerto Vallarta…or beside Mexico City's ornate Spanish style architecture…or next to the crystalline waters of Cancun. Sounds like the backdrop for a wedding out of a dream. But if you have 300 of your closest friends and family to consider, a destination wedding begins to sound like a nightmare. When cutting your guest list isn't an option, bring the best parts of a Mexican destination wedding across the border.
Setting a South of the Border Scene with Mexican Decor & Music
From turquoise beaches to bustling markets in the big cities, Mexico bursts with vibrant color. String up multi-colored papel picado (seen above) — intricate papercut banners — to decorate your ceremony or reception venue. Crafty brides can try their hand at cutting their own and enlist their friends and family to help for a fun wedding shower activity. Extend the theme and use papel picado lattice designs to decorate invitations and wedding cakes.
Good music will fuel your fiesta, so consider hiring a mariachi band. Their elaborate charro suits and the infectious music will get everyone up and dancing la vibora del mar — an energetic alternative to the traditional garter and bouquet toss.
Dulce Eats, Sweet Mexican Desserts
Weddings run on food, especially desserts. Mexican Wedding Cakes — the crumbly butter cookies with chopped nuts and dusted with powdered sugar — aren't actually a staple in Mexican weddings (a misnomer if there ever was one). Known in Mexico as polvorones, these little cookies would still make a great addition to a pan dulce (that's sweet breads) dessert station. A traditional Mexican wedding cake made with dried fruits and nuts and soaked in rum would serve well as a groom's cake. And on the subject of sweets, don't forget flan.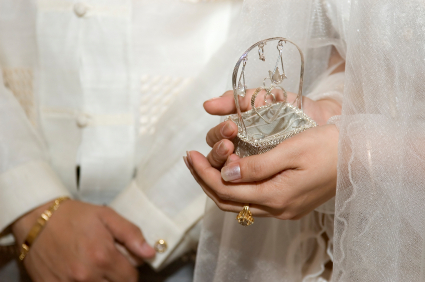 Ceremony and Family: Mexican Wedding Traditions
Familia and amigos come together in the most meaningful Mexican wedding traditions during the ceremony itself. Part godparents, part sponsors, padrinos and madrinas play roles similar to the best man and maid of honor, but have much deeper significance. They guide the couple during the engagement and wedding, not only providing advice, but purchasing items for the wedding and performing specific roles during the wedding ceremony. Couples can have several padrinos and madrinas, so choose from your family and friends to knit everyone closer together.
During the Catholic wedding mass one of the padrinos or madrinas oversees the important arras ceremony. The groom gives 13 gold coins in an ornate box or tray (purchased by the padrino or madrina and blessed by the priest) to the bride as a pledge to provide for her and their future family. In a nod to more financial equality, the words exchanged during the arras ceremony indicate that the bride too will be providing for her family.
Incorporating Mexican wedding traditions to your own nuptials will add just the right amount of color, culture, and heritage…and save the expense and headache of a destination wedding. At L.A. Banquets we recognize that whether familiar or not, at the core of Mexican weddings are warmth, family and tradition: values cherished and celebrated in all cultures and destinations.
Photo By: timlewisnm, http://www.flickr.com/photos/gozalewis/4533466093/