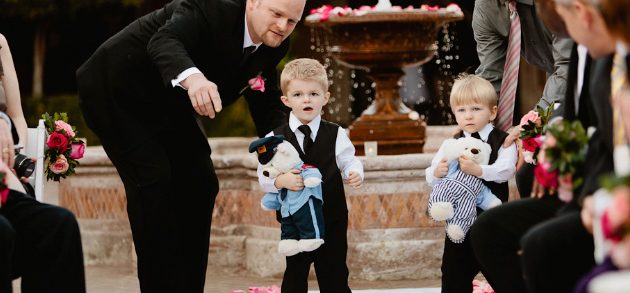 Just ask any bride-to-be, and she will stress the importance of having her wedding run smoothly with zero hiccups, drama, or awkward surprises. Now imagine several small children in a setting where they are expected to stay quiet and well-behaved. Children are restless and unpredictable, and for these reasons many brides do not invite young children to their wedding. This is unfortunate because having kids at a wedding reminds us all that we, ourselves, are playful children at heart, so finding ways to keep kids entertained so they stay out of trouble is paramount to the successful planning of your big day. Fyodor Dostoevsky said the soul is healed by being with children. These five tips for entertaining kids at your wedding will help to ensure a flawless day, and allow soul-healing energy to touch the hearts of all who are present.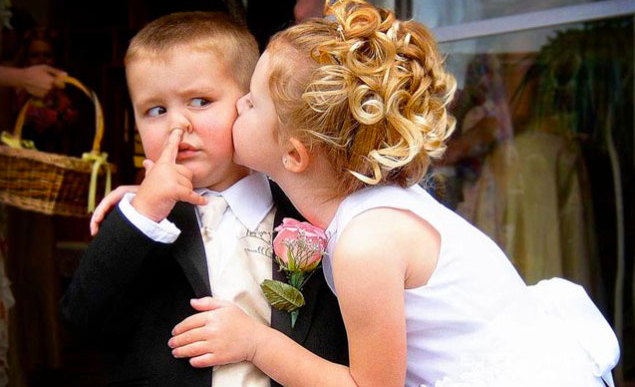 Set Up Video Game Station in Wedding Hall
When you start searching for the best wedding venues, be sure there is a designated corner with a power source and audio/video capabilities to set up a video game station for the kids. Video games will keep children entertained for hours in the wedding hall, as well as the intoxicated groomsmen. All the major gaming systems offer age-appropriate games, as well as games fun for all ages. You can hire someone to monitor the kids at the gaming station, and set up a number of cozy beanbags to create comfort and content. A video game station can keep the kids entertained during photo shoots, dancing, meal time, and even during the ceremony itself. In the event you are concerned about the noise you can always get several sets of adjustable Bluetooth headphones.
Run an Arts and Crafts Table in Wedding Reception Hall
Creating an arts and crafts table in the wedding reception hall will not only keep children entertained, but it can also be used to create memorable souvenirs for the bride and her bridesmaids. If you are creating a wedding on a budget, this is a very inexpensive way to keep the kids focused on fun and away from potential trouble. Hire someone to teach the kids how to make fun crafts like keychains, bracelets, or bottle openers–something small and meaningful that can be given as a gift. You can also offer a variety of art materials allowing kids to choose their medium. From paints and canvases to crayons and butcher paper, the opportunities for making art can be endless.
Play Junior Reporter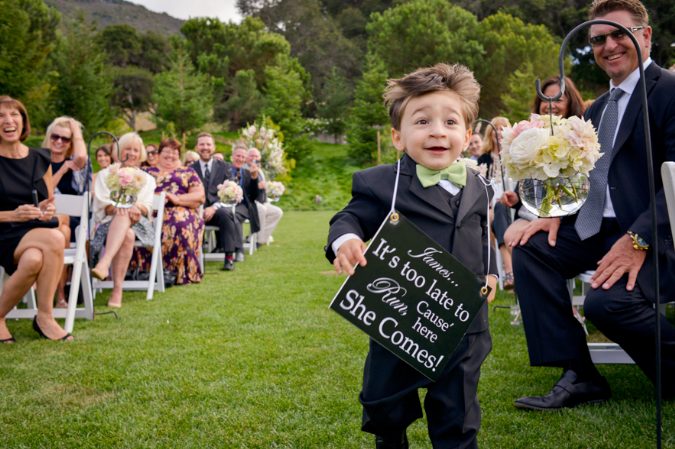 Children love to pretend, and brides love to create as many memories as possible on their wedding day. So why not blend these two together? You can go out and buy several inexpensive small fedoras, and create little Press ID cards to stick in the band of their hats or wear around their neck. Give each little reporter an assignment that involves interviewing guests and recording the child's own observations. You can give each child a disposable camera and ask him to take photos of things he likes to add to the report. For example, one Junior Reporter can be given an assignment to go interview the groomsmen asking each one who the prettiest lady is at the wedding. After recording the answer, the Junior Reporter can go take photos of things at the wedding they deem being pretty. This could be something as obvious as a flower arrangement, or as obscure as the way a colored light reflects off a shiny spoon. When combined the bride will have a laugh over the Q&A, and get a touching look at her wedding through the eyes of a child. More importantly, the kids will be having fun.
Create a Disco Dance Floor for Kids
Setting up a dance floor for kids will help them burn off any rambunctious energy, while keeping them entertained as the adults are doing the Running Man or the Dougie. You can hire a kid's DJ to play child-friendly songs that have coordinated moves, or play fun pop music and let them freestyle. Even if you are employing more traditional modes of entertainment in a luxury wedding venue, you can still have a child's dance floor and designate someone to pair the kids to learn how to waltz. The adults will find it adorable, and the kids will have fun acting like the grownups.
Entertaining Treasure Map of the Wedding Venue
You can engage the kids in an hour-long activity in which they pretend to be pirates searching for treasure with a map guiding them through the wedding venue to strategic locations around the wedding venue. This map can lead them to a location with a clue, in which they find a new map pointing out the next location in a chain of sequences. Some of these clues can be actual little maps, riddles, or mini quests designed to keep the children even busier. For example, one clue can say, "Go find the wedding guest who travelled from a land with castles". After asking a few adults for help the children can quickly gauge that the bride's cousin from England holds the next treasure map in their quest. In the map's final destination point you can hide a chest filled with toys, games and candy and let the children enjoy their bounty of the evening while you knock back champagne with the groom's attractive brother from Miami.
Happy Kids are Well-Behaved Kids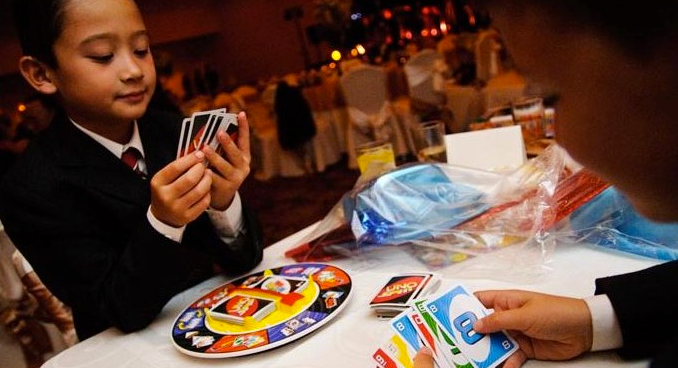 Let's face it, no 7 year-old wants to sit at a table listening to their Aunt Gladys scolding their older cousin on why she is turning 30 and still single. By creating identical seating areas for children that utilizes the same style chivari chairs and tables, the kids will be left to entertain themselves with better topics than single spinster cousins, yet they will still feel connected to the rest of the party guests due to the uniformity of design. Be sure to use the same linens to keep the look unified, and add a smaller scale centerpiece with a few child-friendly accents such as mini puzzle games, candy, or bubble makers.
Contact us today to find a venue perfect for your next kid-friendly event.