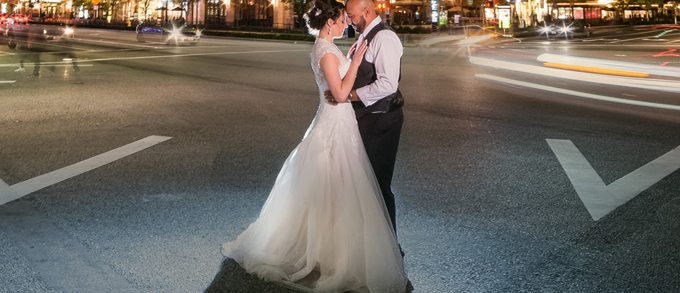 You want your wedding day to be perfect in every way. Among many other things, that means finding the dress of your dreams. There are many factors to consider as you go through the bridal gown selection process, and we're here to untangle all of the many threads.
Buying vs. Renting Your Dress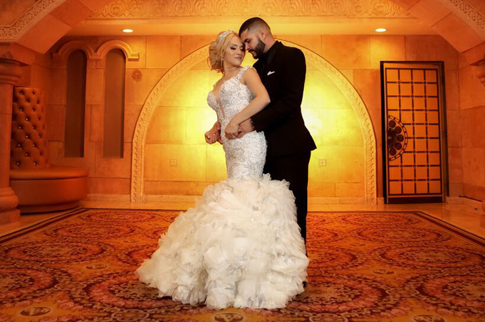 Before you even start shopping, one question to contemplate is whether you want to purchase your own wedding dress that you can keep forever or if you would prefer to rent or borrow one for the day. The upside to purchasing is that you will have an everlasting memento of your special day that goes beyond your memories and your videos and pictures. The gown will be yours and yours alone on your wedding day; no one will have worn it before you do. In years to come, you might even wear the dress again when renewing your vows, or you might one day pass it down to your daughter or another family member as an heirloom for her own ceremony.
On the other hand, many brides-to-be are electing to borrow or rent their wedding dresses. For one thing, doing so is practical as well as being a lot cheaper. If you're not sentimental and don't have much of a desire to pay to preserve your dress for posterity or wear it again yourself, these solutions can be quite appealing. Your pocketbook might thank you as well since you can expect to pay anywhere from $500 to $50,000 for a new dress.
For brides with designer tastes and a tight budget, renting can allow them the leeway to have a brand-name frock, often at half the cost. In short, rental wedding dresses can provide a way for ladies on a budget to live their dreams of dressing and being treated like the most glamorous of celebrities when they walk down the aisle.
You might be worried that a rental dress will not fit properly or might be lacking in other ways. Rest assured that reputable wedding stores make it a priority that their rental bridal gowns and bridesmaid's dresses are thoroughly cleaned and inspected before being dispensed to the next bride. Furthermore, alterations are often included in the price, which might make it possible to stretch your budget a bit further and pay for another wedding upgrade or extra you have been pining for.
Ultimately, only the bride can answer the question of whether to buy or rent. Do what feels right and what fits your budget, and don't let your preconceptions or the opinions of others sway you from your goal of making your day exactly what you want it to be.
Before You Go Shopping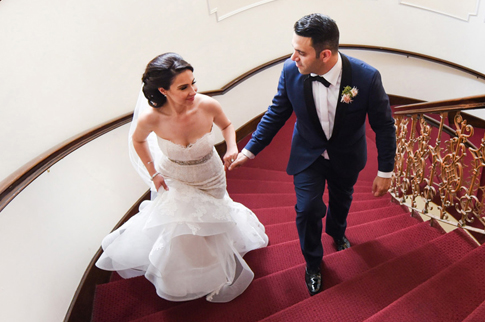 Doing your homework before you ever walk into a store will go a long way toward reducing your stress and helping you to determine exactly what you want. That means giving yourself time, at least six months before your big day, to think and browse, discuss and ponder your choices.
This freedom also gives you the space to learn the vocabulary of wedding dresses. These are the words you will be speaking with your consultant as well as all of the salespeople who will be giving you gowns to try on. We're talking about understanding the various styles of sleeves, necklines, silhouettes, train lengths and so much more. Only then can you begin to actually form the clear and strong opinions about your preferences that will guide you in the final selection process.
Another wise idea is to get accurate measurements of your size before you go to the stores. Many brides-to-be are unaware that wedding dress sizes are often different from standard ones. Having precise measurements can also give you exact guidelines when speaking to store clerks, often before you even go. When setting up an appointment with a retailer you have never met before, be sure to ask if they carry a selection of dresses in your size. If they don't, you will save yourself the time and trouble of going on a wasted trip.
Selecting Online and Physical Wedding Stores
No matter how small or large your budget may be, it's safe to say that your wedding dress is one of the most important purchases you will ever make. For that reason, it's smart to invest some of your time into finding shops you will feel good about patronizing.
One of your best tools is personal recommendations. Ask friends and family for their favorite shops, and consult online review websites as well. For brick-and-mortar retailers, call ahead and ask some general questions. If the associate with whom you spoke seems friendly and helpful, it's a good sign that the in-store customer service will also be of high quality.
Online stores offer convenience and variety, but exercise caution before you buy. Make sure that the vendor is an authorized retailer and is not trying to pass off a copycat dress as the genuine designer article. Prices that appear too good to be true generally are, and the last thing you need as your big day approaches is the anguish of receiving a product that is not what was advertised online. Before you buy, verify with the dress manufacturer that the site is a reputable and authorized dealer. Also, don't buy a dress from the internet unless you can return or exchange it if it does not fit properly. Remember, you usually do get what you pay for.
How to Enhance Your Dress Shopping Experience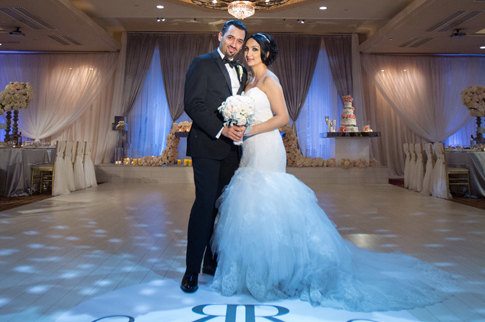 Now that you have done your preliminary research and found some retailers that appeal to you, the real test of patience and perseverance begins. Stay the course and remember these guidelines, and you will soon have the gown of your dreams.
Make an appointment in advance. Bridal shops are frenetic places, and you want to do everything you can to ensure that you have the undivided attention of a sales associate. Even if you do preschedule, you may still find that the store is busy and the associates are harried. If possible, arrange to go on a weekday when conditions tend to be more peaceful.
Don't take too many people with you. As the saying goes, too many cooks spoil the soup. No matter how much you might love all 20 of your friends, limiting your group's size will keep the feedback manageable.
Dress for shopping success and comfort. When you shop, your job is to look as much like you normally do as possible and to be comfortable. Of course, you can and should bring your wedding shoes and shapewear if you have them as well as ideas about what you want your hair to look like, but you don't need to get a spray tan or cake on the makeup before you go dress-hunting. Help the sales associate select possibilities by providing as much clear information as you can about your goals for the day and your color scheme.
Stay focused. Remember, this is your wedding. Maintain control of your shopping appointment. That means gently but firmly stating what you want and don't want. While the opinions of your friends, bridal party and sales associates are welcome, the decisions are ultimately yours to make. Don't allow yourself to be bullied into spending more money than you planned or into buying something you don't absolutely love.
A Word About Fabrics
Now that you're actively shopping, one vital aspect of your dress that you need to decide on is the fabric. There are six major types that are traditionally used in bridal gowns:
Satin – Smooth, thick and versatile, satin works well for all body types and lends itself to several different styles of gowns including ruched, drape and ball gown styles. Usually made of 100 percent silk, bridal gown-grade satin is especially recommended if your wedding is taking place during cooler seasons.
Charmeuse – This light, glossy fabric is usually made from silk but can also be manufactured from synthetic fibers. Because of the liquid effect it gives, charmeuse is used for column-style dresses. Keep in mind that, while beautiful, it clings to every curve and is not always forgiving of flaws or bulges.
Chiffon – This beautiful, light fabric is often used as an overlay on top of more substantial materials. This sheer, woven material has a weightless appearance and can add beauty and dimension to many styles of gowns. That being said, it is delicate and can snag easily.
Organza – Like chiffon, this is a delicate, sheer, woven fabric usually made from silk. However, while still lightweight, it is stiffer and more structured than chiffon, making it ideal for weddings held in warmer weather.
Tulle – This is a sheer fabric with an open weave that gives the appearance of netting. If you have ever seen a ballerina's tutu, you have seen tulle. Easily snagged, tulle can give a ball gown-style dress a lighter-than-air feeling beyond compare.
Lace – This beautiful, open weave fabric is usually used to form overlays and augmentations that make a dress even more stunning. Lace comes in different styles and varieties that include Chantilly, Venise and Alencon. In general lace wedding dresses impart a sense of luxury, tradition and style to virtually any bride on her special day.
Style Considerations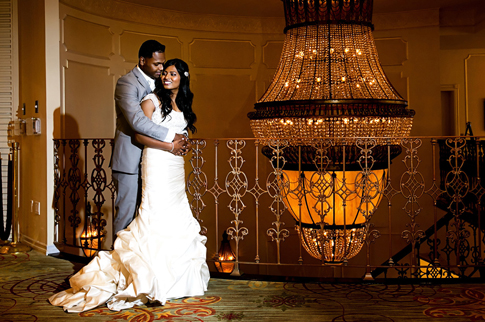 The material from which it is made is only one aspect that goes into the look of the dress you ultimately pick. There are several other stylistic factors that enter into the equation.
Length
While floor-length gowns are the traditional choice, many ladies are deciding on shorter dresses. You can look gorgeous in anything from a mini dress that goes just below your hips to an option that falls just above your knee or, for those who are inspired by the fashion of the 1950s, a tea-length choice that hits below the knee.
In addition to being more traditional, floor-length dresses are recommended for the bride who wants to draw attention to the lower part of her body because of her beautiful skirt. These skirts can fall into several categories:
Ball gown skirt – This full skirt is ideal for formal dresses and particularly suits brides who have pear-shaped or slender figures.
Straight or sheath skirt – While this style can constrict your movement during activities such as dancing, many lean-figured or petite brides choose it for its elongating effect and its tendency to accentuate every curve.
Trumpet skirt – This style begins to flare at about mid-thigh, reminiscent of the shape of a trumpet's bell. It is more understated than the mermaid skirt described below.
Mermaid skirt – To pull this style off, the wearer must be very comfortable in her skin since it shows off every curve. The mermaid style hugs the bodice and comes straight down to the knee, at which point it flares dramatically.
A-line dress – Also fitted around the bodice, this style then flows to the ground in a shape similar to that of an uppercase A. Excellent for virtually all body types and formal and informal wedding styles, the A-line gives brides a great deal of versatility that allows them to accentuate their best features while minimizing their cosmetic challenges.
The Back
If you're proud of your back and want to show it off, a backless dress will give you the perfect opportunity. You can choose among a variety of necklines that accentuate your back including halter, sweetheart, keyhole, cross-back, strapless and thin strap.
On the other hand, you might feel more comfortable covering your back. The good news is that you can do so in many beautiful ways that accentuate your grace and poise as you walk down the aisle and dance with your new husband during your reception. Your options include covering your back with lace, sewing on beads, crystals, pearls or flower appliqué to a nude fabric or choosing a dress whose back buttons down from the neckline to your hips.
The Sleeves
Perhaps you want to show off your arms, or maybe they are a feature you would rather leave to the imaginations of your guests on your wedding day. Whatever your preference, there is a sleeve style that will suit you. These include:
Long sleeves, including straight sheath and bishop or peasant-style that end at the wrist and have a tight-fitting cuff.
3/4 tight-fitting sheath or raglan sleeves or loose kimono or bell styles.
Strapless styles that accentuate shoulders and bust line.
Cap sleeves that only cover the shoulder.
Juliette sleeves that are longer than cap sleeves. With a puff at the shoulder, they are tight to the wrists.
Boatneck sleeves.
Off-the-shoulder sleeves.
The Waistline
There are several waistline styles designed to flatter virtually any figure. They include:
Empire waistline. This is raised and comes just below the breasts. Well-suited to most body types, it works especially well for small-busted brides who want to accentuate their neckline. Since the dress flows from the bustline, it can hide other imperfections such as a pear-shaped figure.
Natural waistline. This falls above the navel and the hip bones. A dropped waistline can be created by placing a belt below the natural waistline.
When You Have Found Just the Right Dress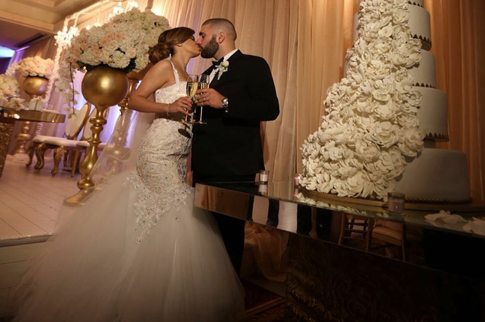 After days, weeks or maybe months of researching and searching, you believe you have at last found the wedding dress of your dreams. It looks great on you, it fits into your budget and your friends even seem happy. Now that you're ready to make that all-important purchase, keep the following advice in mind:
Don't give into impulse. It has taken you this long to choose; you can afford to sleep on it for just a little while longer. Taking this extra time will cement your decision in your mind and help to ensure that you are not a victim of pressure or anxiety in your decision-making.
Choose the right size. Maybe you will actually succeed in dropping 30 pounds before the ceremony, but don't base your size choice on what might or might not happen. Remember, it's always easier to take in a dress than it is to let it out. For that reason, we recommend that you size your dress according to your largest measurement. If your hips are a size 14, for example, you should order your dress in that size, making alterations later where necessary.
Pay attention to what you sign. Your contract is a crucial document that outlines what you will need to know about your dress, including when it will be shipped, the payment agreement and any additional fees. Keep it in a safe place for reference after you sign it, and be sure you pay for your dress in a way you can trace such as via credit card or check.
While You Wait
It's like anticipating Christmas or your birthday when you were a child. Waiting for your dress to come in can definitely keep you on pins and needles for weeks. While you're enduring this period of suspended animation, take the following advice to stay sane:
If you were allowed to take pictures of your dress when you tried it on in the store, put them in an album. Show them to people you trust, explaining what it was about that particular gown that made it The Dress. Listing the dress's qualities can help to assuage any doubts or buyer's remorse you might be feeling as you wait for its arrival.
Under no circumstances should you try on any more dresses. You have taken numerous steps to ensure that you made the decision that was right for you. Don't second guess yourself.
If you have doubts or questions, talk to the supportive friends who went shopping with you on the fateful day when you picked your wedding dress. They can remind you of details you may have forgotten and reassure you about the wisdom of your choice.
Don't panic. If you have doubts about a particular aspect of your dress, wait until it is shipped to the store. Many flaws and imperfections can be expertly addressed during the alteration process.
Finally, there is one piece of wisdom that frequently gets lost during the hustle and bustle of wedding preparation: Have fun. Remember, all of this – the dress, the flowers, reception, music, etc. – are important. At the same time, they represent only a tiny fraction of the real reason for the day.
No matter what might go right or wrong, you and the love of your life will be linking your destinies in a ceremony taking place in front of the people you love most. While mistakes and glitches may well occur, they will not most likely be what you remember years from now when recounting the story of your wedding day. We hope that these ideas and suggestions help to make your special day stand out even more.